ARTICLE
Good things come in threes
25 April 2018
Three key innovations will be the focus of the Tork stand at Interclean Amsterdam.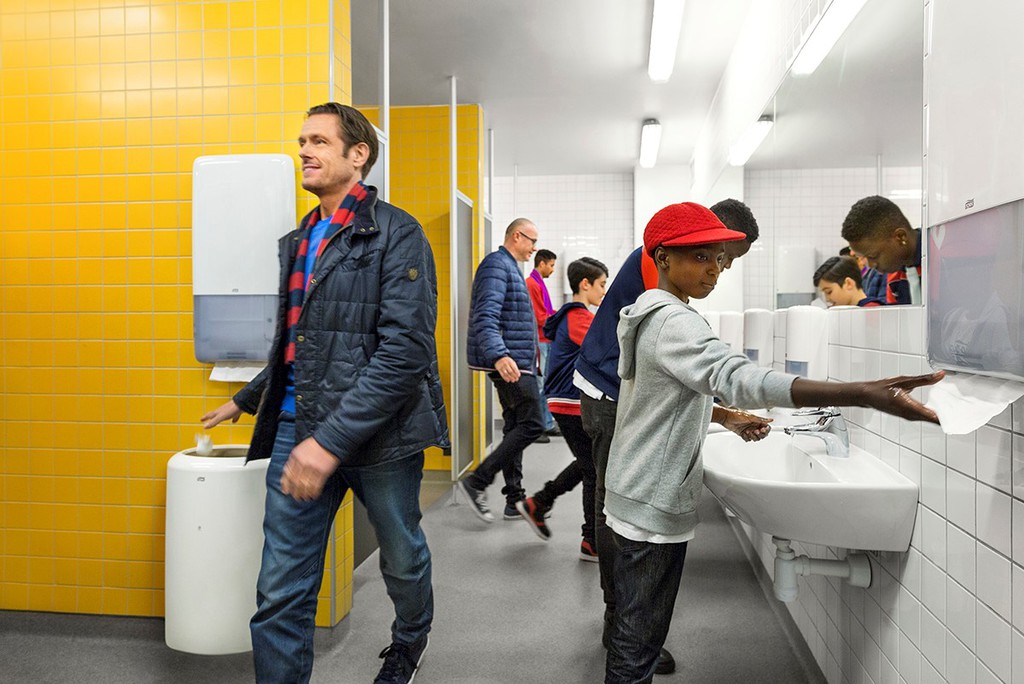 Developed for the most challenging of high-traffic environments are Tork PeakServe Continuous Hand Towel, Tork EasyCube and Tork PaperCircle.
"Tork is all about innovation and our stand reflects just that," said Tork Brand and Communication Manager Samy Ben Jazia. "Under the theme Stay Ahead with Tork we will demonstrate how customers can revolutionise their businesses by implementing our new systems."
Tork PeakServe – launched in September 2017 – is a hand towel dispenser aimed at high-traffic environments such as stadiums and arenas. It offers a fast and efficient hand-drying system and provides each washroom visitor with a towel in just three seconds. And it caters for 250 per cent more guests between refills than conventional hand towel units.
"Tork PeakServe combines a revolutionary dispensing system with a completely new paper manufacturing process," said Hazel. "It is the first breakthrough hand-drying innovation in at least 20 years and is a protected system."
Tork PeakServe hand towels are compressed during production to make them twice as compact as standard towels. The unit contains several bundles which are linked together via a hook and loop system to provide a continuous supply of paper without any risk of jamming. And the fact that the dispenser maintains a long-lasting, continuous supply of towels means fewer washroom maintenance checks are required and labour cost are reduced.
Another stand highlight will be Tork EasyCube, a facility management software that lets cleaning staff know via a smartphone or tablet when a dispenser needs refilling or when cleaning is required. Originally designed for use in the washroom, Tork EasyCube is increasingly being used by FMs to monitor traffic flows in entire buildings. The system is currently in use in more than 80 facilities globally including airports, retail complexes, offices, healthcare facilities and amusement parks.
New from Tork is a web-based Value Quantification Tool which allows potential clients to calculate how much they could save by using Tork EasyCube. This will be demonstrated live on the stand via a two-metre high "iPad".
Tork has teamed up with software giant Microsoft to harness the power of big data and the two organisations will be co-hosting three seminars during Interclean.
"These sessions will focus on the Internet of Things and how it is revolutionising the cleaning sector," said Samy. "We expect our joint seminars with Microsoft to generate a wide appeal and we are anticipating significant crowds."
The third focus of the Tork stand will be the Tork PaperCircle hand towel recycling service which was recently launched in the Netherlands, Belgium and Germany and has been nominated for the Interclean Innovation Award 2018.
"This is the world's first circular service for washroom paper towels," said Samy. "We collect used towels from the customer and recycle them locally at our mill, turning them into other products such as toilet tissue. By doing so we close the loop and reduce the carbon footprint of the customer's towels by up to 40 per cent."
Customers have reported a 20 per cent reduction in generated waste after signing up to Tork PaperCircle. The scheme has recently been expanded and will soon cover Sweden. And if successful it will eventually be rolled out to more countries in Europe.
Sports arenas are among the most challenging of high-traffic environments and screens on the Tork stand will portray stadium crowd scenes. "As a fun attraction, visitors will be able to interact with these screens and start a 'Mexican Wave' via a camera that will be picked up by the on-screen crowds," said Samy.
And for the first time ever, Tork will complement its main 10.101 stand with two satellite stands. "We felt that our offering this year was so significant that it made sense to highlight our launches in other areas of the exhibition – not just in the Washroom Hall," said Samy.
Stand 7.436
OTHER ARTICLES IN THIS SECTION