ARTICLE
UK's first toilet store opens
03 September 2015
The UK's first 2theloo toilet facility – sponsored by Tork manufacturer SCA – opened in London on 26th August.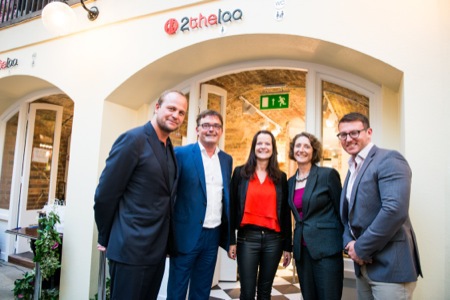 2theloo is a highly successful international chain of away-from-home "toilet stores". Equipped with Tork toilet tissue, hand towels and soap products, the facilities combine spotlessly clean toilets with an affiliated shop.
The opening of the first UK 2theloo in Covent Garden comes in the wake of a survey carried out by SCA into attitudes to public washrooms.
"Our research revealed that six out of 10 women feel that poor hygiene in public spaces limits their lives, said "SCA marketing director UK and ROI Jenny Turner. "And 52 per cent of female respondents claim that poor hygiene prevents them from using public washrooms."
She added: "2theloo is a proven concept in high quality public toilets, and as a champion of both innovation and hygiene SCA is the ideal international premium partner for 2theloo."
Besides offering clean and comfortable toilets and urinals, the new Covent Garden facility incorporates a family room, make-up corner and a small shop offering gifts, drinks and toiletries. Visitors paying to use 2theloo receive a discount voucher which they can then redeem in the affiliated shop or in selected shops and restaurants nearby.
Situated in the South Hall of the Covent Garden Market building, 2theloo uses Covent Garden-themed visuals to make each visit a fun experience.
2theloo was first set up in response to a growing dissatisfaction with the unavailability of public washrooms in European cities. It was the brainchild of Dutch entrepreneurs Eric Treurniet and Almar Holtz who opened the first 2theloo toilet shop in Amsterdam in 2012.
Today there are more than 200 outlets in 15 countries including France, Germany, Spain, Belgium, Austria, Israel and the Philippines. By the end of 2015 it is envisaged that more than 100 milion people will have visited a 2theloo facility.
"Everyone should be able to go out into a city without worrying about the location of the nearest accessible public toilet," said Jenny. "The mission of 2theloo is to make the absolute most of your toilet break, wherever you are."
OTHER ARTICLES IN THIS SECTION