ARTICLE
Cleaning chemicals showcase
14 February 2014
Evans Vanodine have been manufacturing cleaning chemicals for nearly 100 years and, according to the company, the experience and knowledge they have gained ensures they produce consistent, efficient and cost effective products.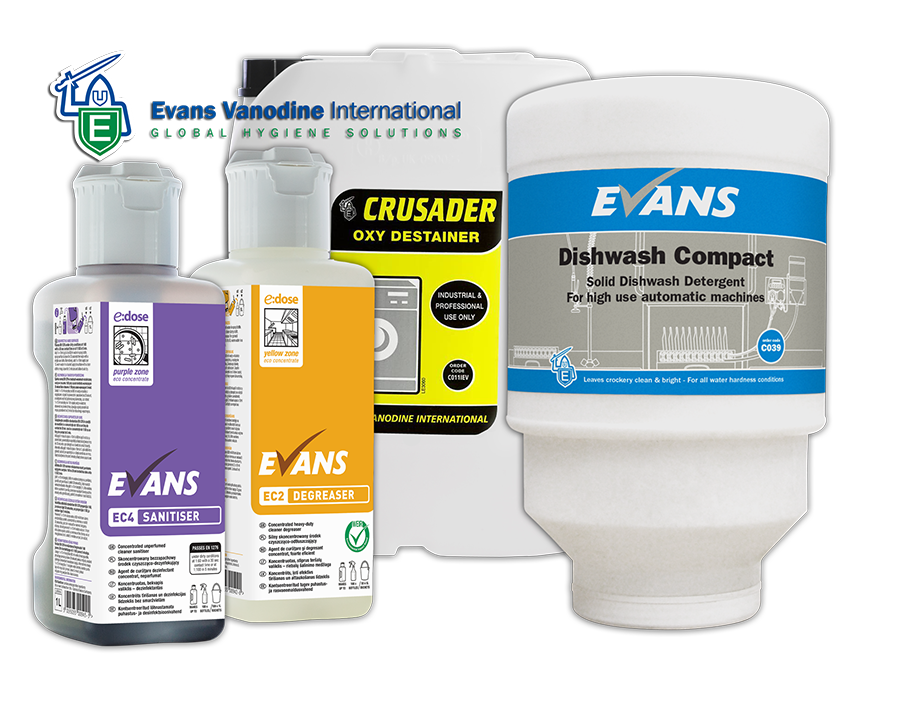 Their extensive range covers applications from floor care and washroom to catering and laundry. At ISSA/Interclean Evans Vanodine will be showcasing their full range of products including several new and exciting developments.
Making its debut at the show will be the e:dose super concentrate range, which now includes a heavy duty degreaser and an unperfumed cleaner sanitiser, which passes European disinfectant test EN1276 in 30 seconds. E:dose delivers products easily and economically in a simple, colour co-ordinated system, covering all significant sections of the daily cleaning schedule.
The new Crusader Pro Laundry range will be a major feature of the show. This highly efficient professional liquid laundry system is supported by training programmes, IT software costing programs and the latest in dispensing systems.
Another new development is Evans Dishwash Compact, a concentrated, highly cost effective, solid dishwash formulation, for medium to high usage automatic machines, which is said to achieve impressive results on crockery and glassware.
Valerie Fotheringham, Evans Vanodine's chief microbiologist will also be taking part in the seminar programme at the show. In the afternoon of Wednesday 7th May, Valerie will present on the European Biocide Product Regulation and its impact on disinfectant manufacture and use in terms of standards and costs.
Stand 11.514
OTHER ARTICLES IN THIS SECTION