ARTICLE
Don't let the bed bugs bite
04 April 2017
Cleanliness is critical when it comes to protecting your brand. It impacts your customers' experience and perceptions, affects their loyalty, and influences what they tell friends and family. That's why it's important to consistently deliver a clean, fresh and healthy environment.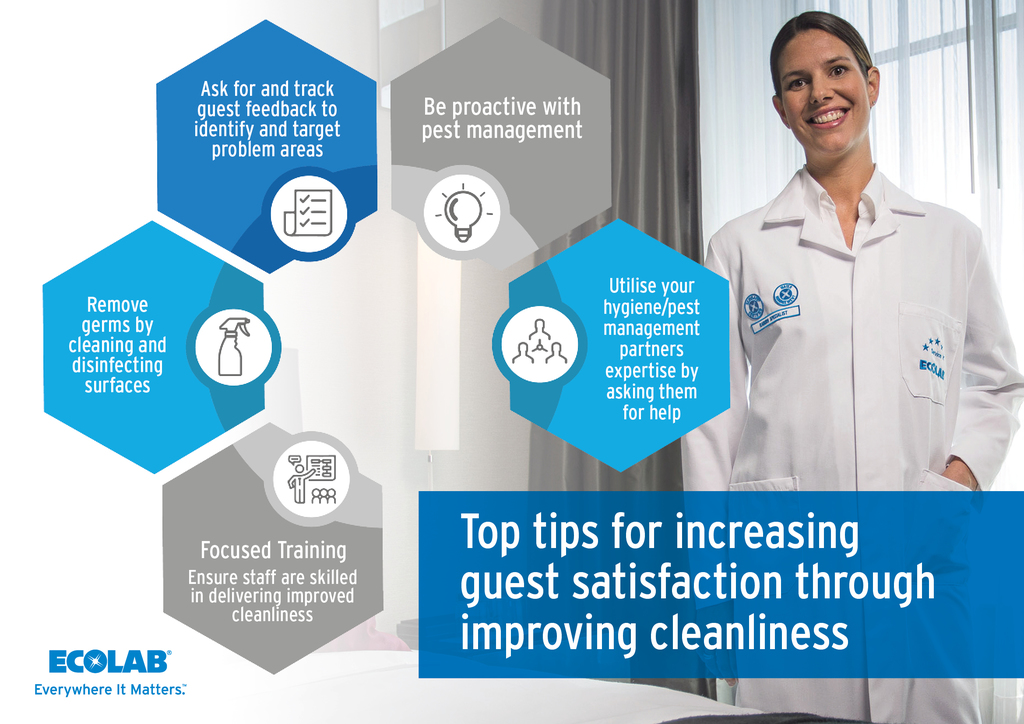 Did you know that ninety per cent of travellers avoid hotels labelled as 'dirty' and a single negative online review can cost a hotel over 30 customers? In addition, 80 per cent of travellers are concerned about finding bed bugs in a hotel and 12 per cent of travellers have altered or cancelled trips due to concerns about bed bugs.
Ecolab recently held a free webinar on the importance of housekeeping and delivering outstanding guest satisfaction. Ian Lamb, regional technical manager, Ecolab and Dr. Joelle F. Olson, lead entomologist, pest elimination, Ecolab talked about maintaining housekeeping standards and its impact on brand perception. They introduced steps that help to maintain a cleaner, safer and healthier housekeeping operation keeping employees, customers and guests safe and healthy. They also gave an overview of top tips to help increase guest satisfaction through improving cleanliness.
Key takeaways from the webinar were:
Housekeeping standards have a huge impact on guest satisfaction with cleanliness a top priority for customers
When it comes to maintaining your reputation, we have never been in a more dynamic environment for news. It's common for people to make and change their travel plans after browsing social media and online review sites looking for peer to peer recommendations
Cleaning and disinfecting surfaces are both important in maintaining cleaning standards
Having procedures, tools and trained associates can help you to enhance your brand image and protect your assets
There is an increase in public awareness of bed bugs with 80 per cent of travellers concerned about bed bugs
Bed bug activity rises during the summer months of May through to September
There is no way to prevent bed bugs from being introduced into a room, therefore the best remedy is being proactive and looking out for the signs of bed bug activity
Ecolab's five tips to maintain a cleaner, safer and healthier guest room, and delivering outstanding guest satisfaction through improving cleanliness are:
Ask for and track guest feedback to identify and target problem areas
Utilise your hygiene/pest management partners expertise by asking them for help
Remove germs by cleaning and disinfecting surfaces
Be proactive with pest management
Focus on training, ensure all staff are skilled in delivering improved cleanliness
Additional information and resources are available on Ecolab's website: http://en-uk.ecolab.com
OTHER ARTICLES IN THIS SECTION