ARTICLE
The POD – Reduce your paper consumption by up to 20%
01 October 2013
Kennedy introduces the Paper POD, a mechanical auto-cut paper towel dispenser that can assist in reducing paper consumption by up to 20%* thanks to its Reserve System.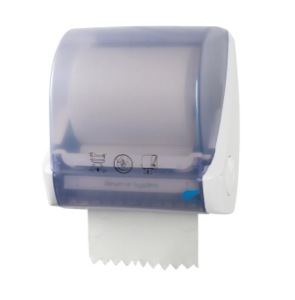 The POD is a mechanical auto-cut paper towel dispenser that provides single use paper portions for hygienic hand drying and with its compact size, contemporary design and translucent blue cover, the unit integrates with the rest of Kennedy's washroom dispenser range.
Consumable control for a cost efficient and environmentally responsible hand drying
Thanks to the Reserve System, with its built-in patented stub roll loading mechanism, a new roll can be loaded into the dispenser before the previous roll has been fully used. When the stub roll has been fully used the mechanism transfers to the new full size roll. The Reserve System prevents the paper from running out at the end of the roll, and ensures that no un-used paper remains on the stub roll: paper wastage can be eliminated leading to a reduction of paper consumption by up to 20%* and resulting in a reduced environmental impact.
Consumable compatibility: the choice is yours
The POD has been designed to accommodate a large variety of paper rolls available on the market: various roll lengths, diameters, widths, and paper thickness, 1-ply or 2-ply, the choice is yours. This flexibility is what makes the POD the ultimate choice for non proprietary auto-cut paper dispensers. For customers who prefer to source paper rolls together with the dispenser, Kennedy can offer a standard 2ply 110 metre paper roll.
For large customers who may require a proprietary solution compatible with their specific paper roll only, Kennedy's in house team of designers and engineers are happy to offer tailor-made product adaptations.
*depending on paper specification.
OTHER ARTICLES IN THIS SECTION