ARTICLE
The importance of washroom cleanliness and its impact on public health and brand perception
23 May 2016
Cleanliness is critical when it comes to protecting your brand. It impacts your customers' experience and perceptions, affects their loyalty, and influences what they tell friends and family. That's why it's important to consistently deliver a clean, fresh and healthy environment.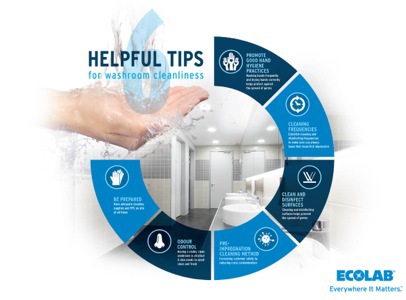 On 17th May Ecolab held a free webinar on the importance of washroom cleanliness and its impact on public health and brand perception where, John H. Hanlin, Ph.D. VP, Global Public Health, Ecolab and Peter Beichel, Marketing Director, Facility Care and Hospitality, talked about the public health risks found within public washrooms, its impact on brand perception and gave an overview of strategies to help reduce the risk of infection.
Key takeaways from the webinar were;
Washrooms are a haven for gastro-intestinal and respiratory pathogens
A person can unknowingly contaminate their hands by touching washroom surfaces including flush levers, taps and door handles
Having procedures, tools and trained associates can help you reduce infection risk and enhance brand image
Ecolab's six tips to maintain a cleaner, safer and healthier washroom to help reduce infection risks and enhance brand image are:
promote good hand hygiene practices
establish cleaning and disinfecting frequencies to make sure you always leave that clean first impression
clean and disinfectant surfaces especially hand contact surfaces such as door handles more frequently, using BPR registered products effective against bacteria and common viruses
Implement methods to avoid cross contamination
Combat odours from the source – don't try and mask
Ensure you have adequate supplies on site at all times including PPE, cleaners, disinfectants, hand soap and paper towels.
Additional information and resources are available on Ecolab's website: http://institutional.ecolab.co.uk/solutions/hand-hygiene?utm_source=CMNewsletter&utm_medium=email&utm_campaign=washroomwebinar
OTHER ARTICLES IN THIS SECTION