ARTICLE
Wet wipes station
15 December 2014
A new addition to The Hygiene Company's range of wet wipe dispensers is the free standing '2 in 1' Cleaning Station.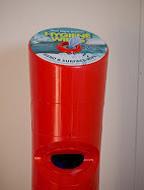 Designed to complement the most demanding of facilities, the Cleaning Station hosts a range of features including a large 1100 capacity wet wipes dispenser and a built-in waste bin made out of robust rotary moulded polyethylene. It can also be easily moved from location to location as required.
As with all products, The Hygiene Company offer custom branding, which adds that little personal touch. The Cleaning Station is available from just £159.00.
OTHER ARTICLES IN THIS SECTION