ARTICLE
Digital real-time cleaning management system
21 December 2017
Grange Europe, a manufacturer of hygiene products, has become known over the past 14 years for its design and manufacture of Hygiene Monitors and the famous WIPEPOD brand of wet wipes dispensers. Now, the company has launched Hygiene360 – a fully digital real-time cleaning management system.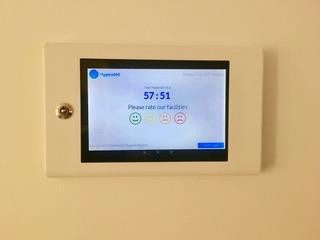 Hygiene360 builds on years of experience supplying the popular Hygiene Monitors to clients all over the world. Like the hygiene monitor, it provides a visible countdown to the next cleaning due time, and records when an area has been cleaned. Hygiene360 also includes enhanced customer feedback, customer and staff issue reporting, Grange Europe's best-ever footfall device and, with its new dynamic routelist, you can be sure you are targeting the right location at the right time.
Managing director Jonathan Bradford said: "We have spent a great deal of time and effort creating a product that is easy to use, and most of all, covers the requirements of our customers. We're very pleased with the results! It is our best ever hygiene monitoring product, for clients that require an enhanced monitors system."
Grange Europe t/a The Hygiene Company supplies hygiene products including a range of wet wipes, wipes dispensers, antimicrobial soap and hand driers through their Hygiene Company and Wetwipes Warehouse brands.
OTHER ARTICLES IN THIS SECTION