ARTICLE
Derby County conserve water
23 February 2015
Derby County football club have added HSG UK to their portfolio of proud partners.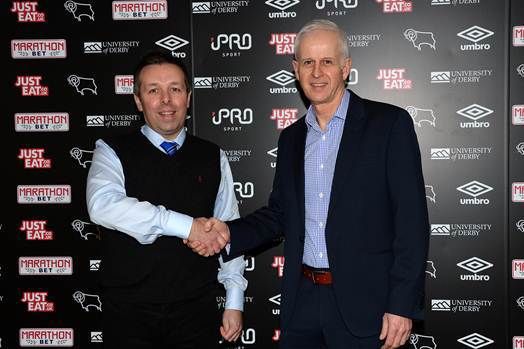 The one-year agreement will see HSG UK's branding on show at the iPro Stadium throughout the week and on a match day, while the Club will also stage a networking event as part of the relationship.
HSG UK, based on Pride Park in Derby, have built a reputation over the last 10 years for reliability and quality in the washroom and water saving industry, establishing themselves as firm experts in their trade.
HSG UK offer three main services to their customers: Serviced washroom water conservation products that are said to save customers large amounts of money – UK wide; serviced washroom products with an environmental focus; and washroom products that can be purchased online from HSG website.
HSG UK will provide Derby County with a water management system which will save the club over 7.5 million litres of water a year, resulting in a saving of over £18,500 on the current water bill and as a result a specific water product, Ureco, will be used within the corporate areas at the iPro Stadium and at the Derby County Training Centre.
Derby County's chief operating officer John Vicars said: "We are pleased to be announcing our partnership agreement with HSG UK and look forward to working with them during the next year.
"It is a relationship that has the potential to work well for both parties; HSG UK will have the opportunity to promote their brand and Derby County will also benefit from the water management system that will be put in place."
Simon Rice, managing director of HSG UK, added: "Having been a supporter of the club for 37 years, it gives me great pleasure to form an association with Derby County this year.
"The Club is in a fantastic position both on and off the field and it is an exciting period to be connected with the Club. It is also exciting to know that our own manufactured product, Ureco, will be installed into the stadium and training complex and will save the club a considerable amount of money and water."
OTHER ARTICLES IN THIS SECTION