ARTICLE
MD receives royal recognition
21 August 2018
The managing director of a Derby company which specialises in water conservation and washroom services recently attended a reception at Buckingham Palace to recognise the recipients of The Queen's Awards for Enterprise in Innovation.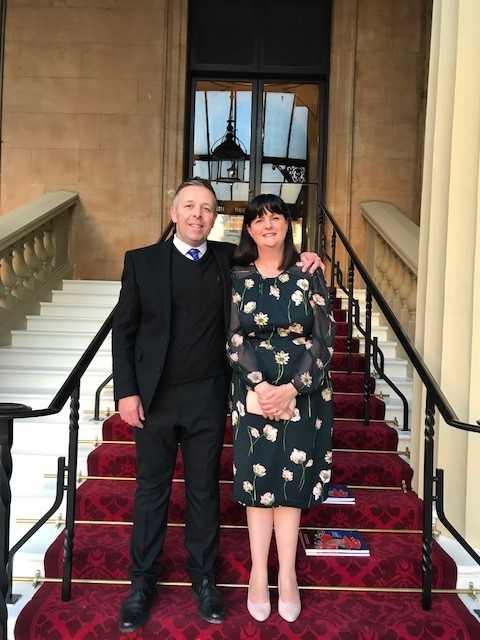 Simon Rice, who set up HSG in Pride Park 11 years ago, attended the reception with his wife Louise.
Having been awarded The Queen's Award for Enterprise in Innovation in April, he met Prince Charles and had a long conversation about the technology behind his Ureco washroom system which saves customers vast amounts in water usage and money.
Mr Rice said: "Prince Charles was interested in everybody's businesses but he was particularly struck about the water saving aspect of the Ureco and particularly about the results at the NEC in Birmingham where we have annually saved them the equivalent of 35 Olympic sized swimming pools of water for the past nine years."
HSG's system is said to be the market leader in this field by using patented technology to improve the washroom environment.
The Ureco stops smells by trapping urinal odours below the surface and reduces blockages through the patented enzyme system which breaks down the fat, acid and salt in urine. This enables the Uretech to reduce urinal flushes from around 96 times to just four times a day – saving money by reducing water consumption by up to 96%.
Mr Rice has also developed the Cleen App and Dashboard which is said to be the UK's first fully integrated washroom services system and left a review on his smartphone of the Buckingham Palace washrooms whilst at the reception.
"I was pleased to say that the public washrooms were very clean so they got a good rating but things can always be improved and the Ureco would definitely be a bonus.
"Thousands of reviews have already been left on the Cleen App but this is the first at a royal residence. Hopefully other visitors will follow suit!"
The Cleen App is free to download and enables customers and visitors to rate the washrooms in any type of venue from restaurants and shopping centres to sports stadia and airports.
OTHER ARTICLES IN THIS SECTION