ARTICLE
SpaceVac win Green World Award
02 March 2016
SpaceVac have been presented with a prestigious Green World Award in recognition of their environmental achievements.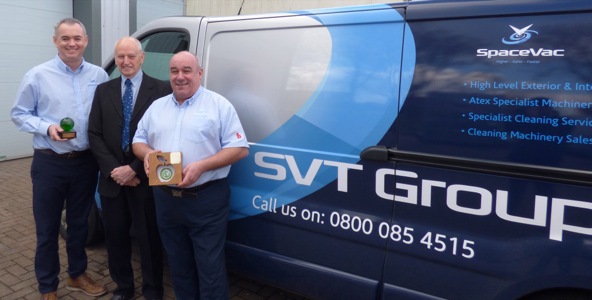 The Northampton based company were awarded the Bronze award in the Innovation category, beating more than 100 other applicants from around the world.
Their trophy was presented by Roger Wolens, managing director of The Green Organisation which runs the campaign.
SpaceVac previously won a Green Apple Environment Award, which allowed them to compete on the global stage for environmental recognition through the Green World Awards. Their winning paper will now be published in The Green Book, the world's only annual work of reference on environmental best practice.
Roger Wolens said: "The award is well earned in the face of some strong competition from all around the world; and their positive contribution to the environment will continue for years to come by having their paper published in The Green Book."
He added: "The work of reference is distributed worldwide to environment professionals, governments, universities, reference libraries and the media so that others can learn from the experience and expertise of people like SpaceVac."
Colin Lewis, MD of SpaceVac, said: "I am very proud of winning this award for the second time in two years – it really proves that the hard work our team puts into creating innovative and environmental solutions really does pay off."
OTHER ARTICLES IN THIS SECTION