ARTICLE
Clean your gutters with confidence this autumn
07 October 2014
The annual invasion of autumn leaves and other airborne rubbish is about to descend on us and as usual it will settle where it was difficult to clean – in the gutters.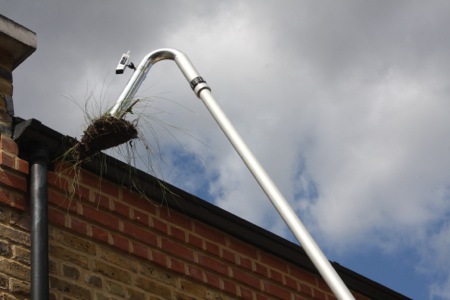 This usually leads to blocked downpipes, overflowing gutters and damp walls – the end result being an insurance claim and higher premiums. If left unmaintained, grass and weeds will grow and you will have a roof garden in your gutters!
This year for the first time, gutter cleaning does not mean expensive scaffold, cherry pickers or men on roofs – 2014 is the first winter we have the luxury of a low cost, lightweight, vacuum assisted pole gutter cleaning system that will reach 4 storeys. SpaceVac, a leading pole gutter cleaning system, is supplied with a camera and TV monitor on the pole to see that the job is done properly and that no corners are cut.
It allows contractors to give clients a photo or even DVD of the end result!
SpaceVac is good news for all commercial and residential property owners, tenants, FM providers, contract and window cleaning companies. Service providers can quickly recoup the cost of the equipment by providing a fast, efficient, value-for-money service and property owners can relax in the knowledge that the job has been done efficiently.
OTHER ARTICLES IN THIS SECTION