Home
>
SpaceVac wins UK 'pole' position and high level approval
ARTICLE
SpaceVac wins UK 'pole' position and high level approval
13 January 2015
SpaceVac Technologies, the world's leading manufacturer of high level indoor and gutter pole cleaning equipment, has reached 'pole' position – voted best UK brand in independent comparison tests.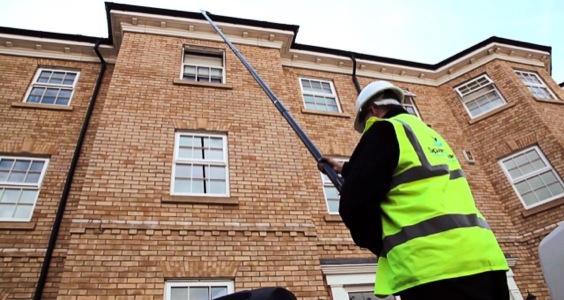 SpaceVac is reported to have beaten two other manufacturers in practical tests by an independent tester on an office block.
At every demonstration SpaceVac impresses the main decision makers. Key to the product's rapid success is the fact that you can buy the SpaceVac system outright (or on terms) and use them continuously for less than the single cost of expensive scaffolding or hire of cherry pickers – so the financial and purchasing directors are delighted.
The site director and maintenance manager are happy too because the job can be completed in-house or by contractors and monitored on camera. SpaceVac is said to be the only brand that supplies a video/stills camera as standard equipment on the cleaning head and a TV monitor on the hand pole. Premises managers can now monitor progress and inspect the finished job before signing it off.
The HR director and safety manager are happy too because SpaceVac equipment is only operated from ground level – no more scaffold or ladder accidents and less time on risk assessments.
Operational staff love the SpaceVac kit because it is lightweight, easy to assemble and use. Beams or gutters can be cleaned at 16 metres (4 storeys) from ground level. High level cleaning has suddenly become safer, far less expensive and fun.
New overseas offices
These benefits which made the success of the UK launch last year, coupled with the results of the UK independent testing, has resulted in orders from around the world. In November 2014 SpaceVac South Africa was opened with its headquarters, training school and showroom in Cape Town. Two other continents have requested local representation, so watch this space for further overseas offices.
And there's a freebie too – The SpaceVac Challenge
SpaceVac is British engineering at its best. It is so confident with its product it offers a business challenge. If you think that SpaceVac is the tool for your high level cleaning call today for the SpaceVac challenge – a free UK demonstration.
The complete independent testing article that voted SpaceVac No 1, can be seen at: www.space-vac.co.uk/wp-content/uploads/2014/10/PFM_Oct14_SpaceVac.pdf
RELATED ARTICLES
No related articles listed
OTHER ARTICLES IN THIS SECTION