ARTICLE
New generation of gutter cleaners
01 August 2014
A new generation of high reach gutter cleaning equipment has been launched after five years of development by Spacevac Technologies.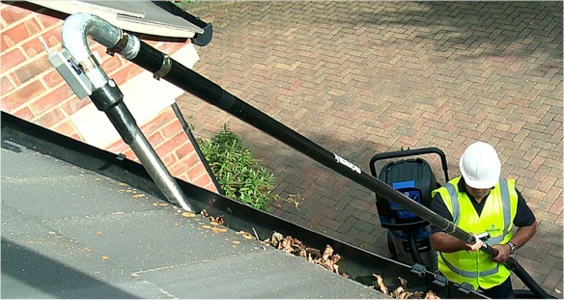 Operated from ground level, the new system has four major features. It removes operational guesswork as it comes with a close circuit TV camera on the cleaning head; it reaches higher than any other product – 4 stories (14 metres); has greater suction power – will safely remove an engineering brick from a gutter; and its carbon fibre tubes make it much lighter than any other. It is 40% quicker and a significantly more effective cleaner than any other product.
The Spacevac is powered by a proven Nilfisk Altro vacuum and the poles have a new locking system that ensures no reduction in diameter at the joins, thus eliminating tube blockages.
Unlike traditional high reach gutter cleaners, the Spacevac is extremely lightweight and can be assembled on the ground by one person – due to heavy tubes others have to be assembled in the vertical position by two operators.
In addition to the many health and safety benefits and the elimination of costly scaffolds or cherry pickers, Spacevac is economical on assembly time – a mere 3 minutes. The high powered vacuum ensures that gutters are cleaned faster and more efficiently with less operator time.
OTHER ARTICLES IN THIS SECTION