ARTICLE
Social enterprise wins environmental impact award
20 December 2017
As a social enterprise and one of the UK's oldest charities, CLARITY–The Soap Co. has become synonymous with manufacturing market-leading hand and body care products that are good and do good and that create tremendous social value in the community. In addition, CLARITY-The Soap Co. has now developed carefully researched eco-friendly soaps that have been gaining media attention and attracting interest from key buyers and discerning venues.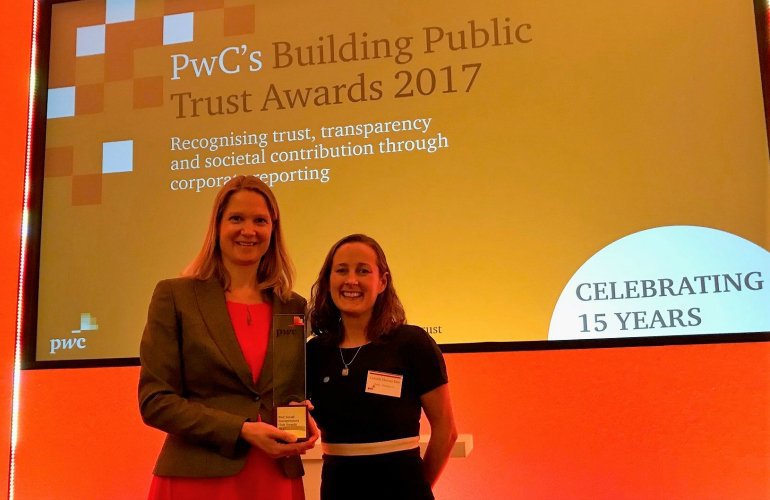 Over the last year, CLARITY-The Soap Co. has been recognised for its hard work, product development and commitment to the environment and sustainability with a number of leading award nominations, including: PwC, Social Enterprise UK, Blue Patch and City of London Corporation.
CLARITY-The Soap Co. has won in the Environmental Impact Category as part of PWC's Social Entrepreneurs Club integrated for the first time in the annual PwC's Building Public Trust Awards lunch which took place on 30 November 2017. The awards recognise PwC Social Entrepreneurs Club members who are implementing innovative and impactful solutions to society's challenges. The winner is selected by a panel of judges and awarded a trophy and a £5,000 prize.
As part of its submission, CLARITY-The Soap Co. detailed how it recently became proud holders of The Planet Mark, an internationally-recognised and trusted sustainability certification programme in partnership with the Eden Project. It has also committed to reducing its carbon footprint annually by 5% and to improving accountability in how and from where materials are sourced. Ingredients, bottles and labels wherever possible come from UK suppliers and they are either recycled, compostable or recyclable. CLARITY-The Soap Co. manufactures its products by using 100% green energy – a clear statement of its commitment to the environment.
In addition, the organisation has just formulated a new eco range for both of its brands. The CLARITYECO+ range – with an eco-foaming, biodegradable hand wash made with 100% eco certified ingredients – and The Soap Co.'s new Eco & Bee Friendly collection.
Anja Batista Sonksen, one of CLARITY-The Soap Co.'s Trustees, and Camilla Marcus Dew, head of commercial at CLARITY–The Soap Co., received the award from ITN's Mary Nightingale.
Camilla Marcus-Dew said: "It is so gratifying be recognised by the PwC judges as a leading eco-friendly social enterprise that is establishing best practice in how to manufacture great products without ever compromising on our environmental ethos.
"This demonstrates we are on the right track in both delivering and communicating our vision for the future."
In addition, on 23 November 2017, CLARITY–The Soap Co. was 'highly commended' for the second year running in the prestigious, One to Watch award category at the 2017 Social Enterprise UK Awards. The award is given, 'For a social enterprise that can clearly articulate their future vision and how they are going to achieve it.' CLARITY – The Soap Co. was also shortlisted in the Consumer Facing Social Enterprise category, 'For a social enterprise that produced or delivers a retail product or service to the general public.'
However, 2017 has seen CLARITY-The Soap Co. featuring in other key awards ceremonies. Perhaps most notably, Camilla Marcus-Dew, who founded The Soap Co., won the Blue Patch 'Female Business Leader Award Winner'. It celebrates exceptional, hardworking women who are achieving greatness through enterprise.
OTHER ARTICLES IN THIS SECTION