Home
>
CLARITY rebrands business products
ARTICLE
CLARITY rebrands business products
15 July 2019
Social enterprise disability employer CLARITY & Co. has relaunched and rebranded three of its leading CLARITY branded products for business: its new CLARITY Juniper & Seaweed Hair & Body Wash (5L), CLARITY Eco-Friendly Washing-up Liquid (500 ml & 5L) and CLARITY Everyday Hand Wash (5L).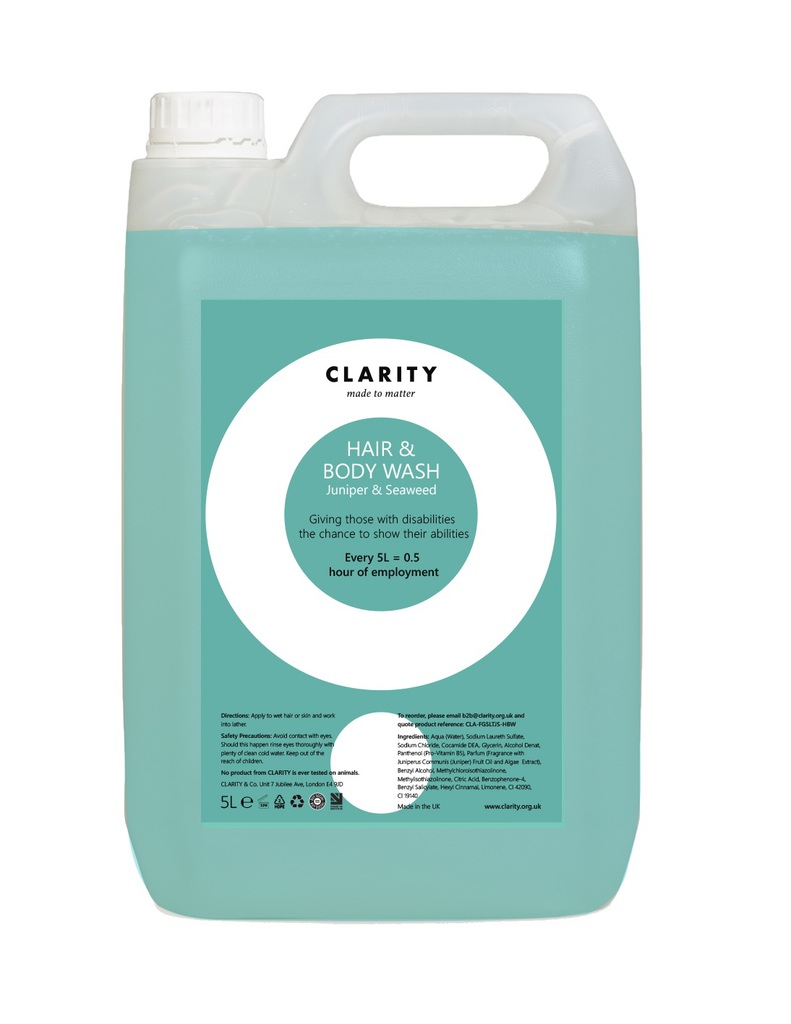 CLARITY & Co. is one of the UK's foremost Social Enterprises, founded in 1854. Its purpose is to enhance the lives of people with disabilities or long-term health conditions, along with their friends and families, through meaningful, permanent or transitional employment, because it sees the greatness in everyone.
The social enterprise recently launched the CLARITY Juniper & Seaweed Hair & Body Wash for the mid-range hotel and hospitality sector with the Marsham Court Hotel in Bournemouth being the first to come on board with every bathroom using the refreshing range – a wonderful tonic after a hard day at the beach.
"We are making real headway with businesses keen to execute meaningful corporate social responsibility strategies and to buy products with purpose for their washrooms that have real social impact," says Diane Cheung, marketing manager.
"We are now listed with many of the UK's leading facilities management and cleaning companies like ISS, Interserve, Julius Rutherfoord and ABM and national distributors of cleaning and hygiene products, like Bunzl Cleaning and Hygiene, Bunzl Catering, Jangro, PHS, Mayflower washroom Solutions and Instock to name just a few.
"The new, more attractive design should gain us added attention from the hotel and corporate sectors. Our Juniper & Seaweed range is ideal for all venues offering accommodation and bathroom facilities, with the CLARITY Everyday Hand Wash providing an affordable yet quality product for all business environments. Our Eco-Friendly Washing-up Liquid is the ideal environmentally kind product for busy kitchen areas."
Camilla Marcus Dew, head of sustainable growth at CLARITY & Co. added: "As we evolve into a modern commercial social enterprise competing with some of the giants of the cleaning industry, we felt that this re-branding exercise will make the CLARITY brand more accessible and recognisable in this sector and beyond."
RELATED ARTICLES
No related articles listed
OTHER ARTICLES IN THIS SECTION