ARTICLE
High-traffic washroom solution
20 October 2017
The Tork PeakServe Continuous Hand Towel system can cater for over 1,000 washroom visitors between refills – which is said to be 600 more than most other dispensers. And it can be refilled twice as fast.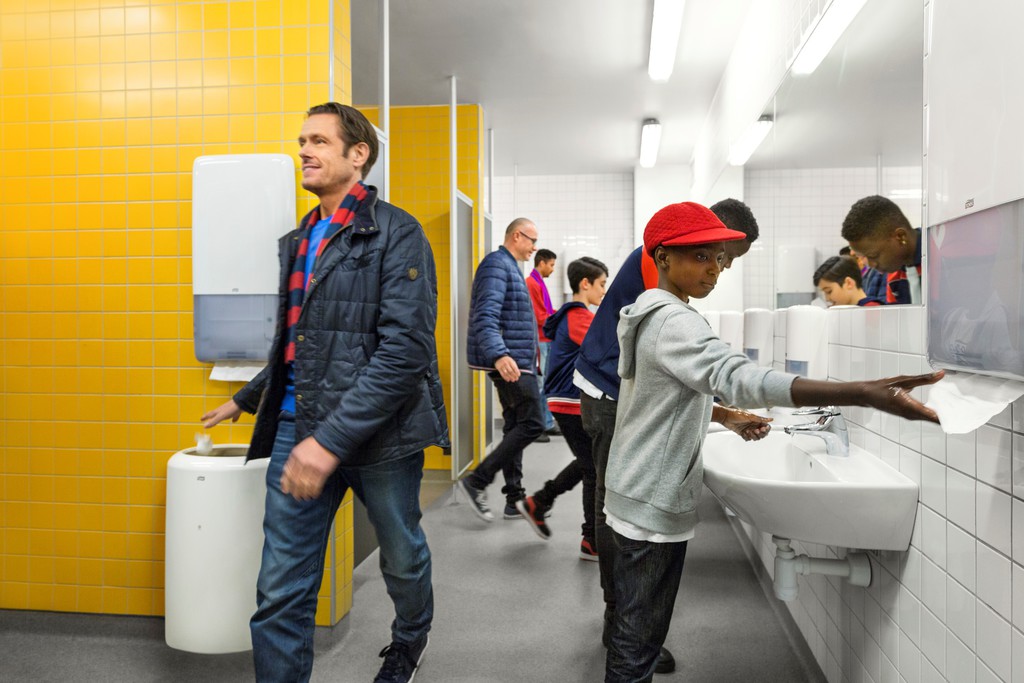 "Tork PeakServe is the most significant hand drying innovation to have emerged on to the market in the past 20 years," said sales director Nathan Titheridge. "It is a game-changer in high-traffic washrooms. The dispenser caters for 250 per cent more guests between refills than conventional units and provides each washroom visitor with a towel in just three seconds. And this makes it much more efficient than jet air dryers which take at least 10 seconds to dry the hands."
Hand towels in the patented Tork PeakServe system are compressed during production to make them twice as compact as standard hand towels. The bundles are joined together using a hook and loop system to provide a continuous supply of paper. Refilling takes seconds since the cleaner can simply insert another bundle into the dispenser during a standard maintenance check.
"Up to now, FM managers have had to make a choice between roll towels which offer high capacity and folded towel systems that can quickly be topped up," said Nathan. "We have taken the best of both worlds and created a revolutionary system that combines high capacity with a unit that can be topped up at any time."
He adds that the way in which the towels are delivered is another major advantage. "Most high-capacity hand towel dispensers feed from the bottom which means the weight of the bundle creates a degree of pull force," said Nathan. "This often results in 'tabbing' – where smalls sections of the towel break off and end up on the floor. Tabbing can add significantly to the cleaning costs since someone needs to clear away the mess afterwards.
"Tork PeakServe dispenses towels one at a time in a continuous loop from the top in a similar way to that of a roller towel. This means there is no pull force and the problem of tabbing is eliminated."
Tork PeakServe has been specifically designed for high-traffic venues such as stadiums where queues are a major issue.
OTHER ARTICLES IN THIS SECTION