ARTICLE
New combined washroom range introduced, as key Lotus Professional systems become part of innovative Tork assortment
04 November 2013
As key ranges from Lotus Professional migrate into the Tork product portfolio, SCA - the parent company behind the brands - has revealed the findings of its extensive washroom study. The research underpins the introduction this month of a new, benefit-focused range of products including hand towels, toilet rolls and skin care dispensers.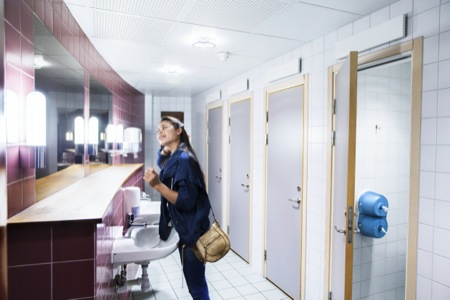 Customers using the Tork washroom range can still expect the same quality they are used to from Lotus Professional, but will also see easier to understand packaging, a simplified range and products that are differentiated within their name by key benefit.
Charlotte Branwhite, SCA product and segment manager, explains: "We conducted global research with staff and customers on the Lotus Professional washroom range, so we're 100% confident in our new assortment because it's grounded in customer insights. The overwhelming feedback was that our range could be confusing, with some respondents citing difficulties like 'finding sub-brands unhelpful' and 'it's hard to know which refill goes with which dispenser'.
Customers can rest assured that all they loved about Lotus Professional now lives on in Tork, but that the whole product range is now much more user-friendly.
"Quite simply, our product names are streamlined – each beginning with 'Tork' and incorporating the key product benefit, such as 'Extra Soft', replacing the 'Premium', 'Advanced' and 'Universal' quality tags within the name. Our quality tiers will still be shown on pack though, to make life easier. We have also distinguished our dispenser offering into four Tork ranges – Elevation, Wave, Aluminium and Stainless Steel, to meet the needs of hygiene critical washrooms, through to high image, stylish solutions.
Charlotte concluded: "Our new, easily-identifiable packing, product names featuring key benefits and pictures means the appropriate washroom products can be effortlessly chosen and ongoing supplies easily managed."
OTHER ARTICLES IN THIS SECTION