ARTICLE
Vinyl floor refurbished
13 June 2017
The Preparation Group's contracting division PPC was contracted to refurbish several hundred metres of vinyl at offices in Bristol with the aim of also leaving the customer with a solution for its on-going maintenance.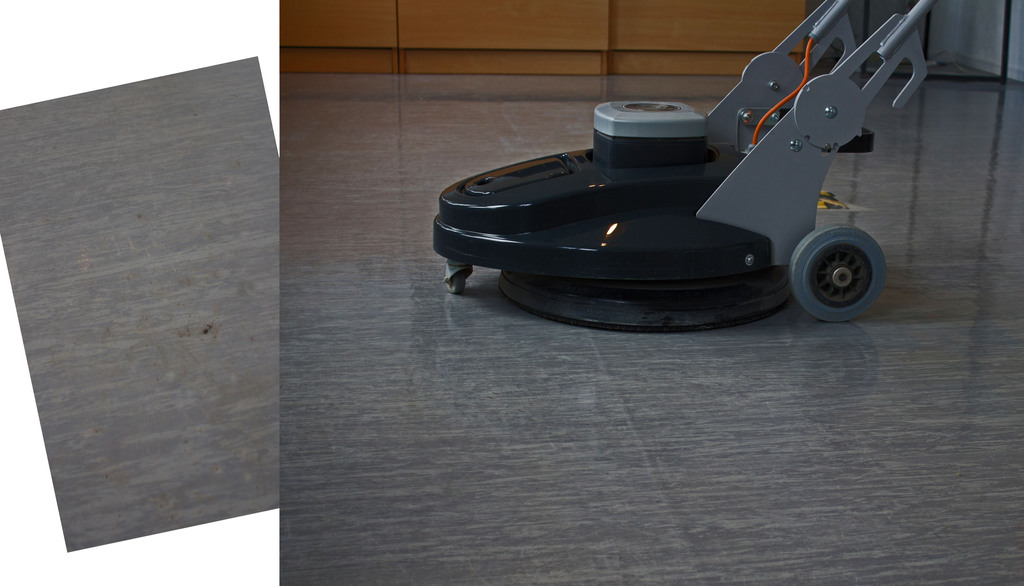 The heavily trafficked floor covering was dirty, scratched and dull. The brief was to restore it back to its former glory.
The new Burnisher 430 machine was employed, fitted with Storm Diamond Pads. The first stage was using an 800 grade pad to remove the ingrained dirt, followed by the finer 1500 grade for a gloss finish just by using water. The Burnisher's high-speed operation glazes as it glides across the surface, with the pads cleaning and shining the vinyl. The Burnisher 430 is easy to operate with simple controls, an adjustable handle height for operator comfort and fold down handle for storage and transportation.
The finished result was a gloss finish that would repel dirt and be easier to clean and maintain.
The company's maintenance department purchased 1500 grade Storm Diamond Pads to be used on their existing scrubber dryer to alleviate any future problems and keep the floor looking as good as it does today for years to come.
With the right equipment, it is possible to create a glossy, glass like finish on vinyl, linoleum, tiles, concrete and resin systems.
The Burnisher 430 is an ultra high speed machine, producing speeds of 1500 rpm and has a flexible pad system that glides across the surface. It emits low noise levels so does not disturb normal daily operations.
A drive plate is fitted onto the underside of the Burnisher, onto which scrubbing or diamond cleaning pads are fitted. These pads can be used with or without water. When used dry a dust extraction port ensures clean results, collecting debris into the onboard dust bag. The environmentally friendly option of just adding water ensures a hygienic, shiny, yet non-slip surface.
OTHER ARTICLES IN THIS SECTION