ARTICLE
Shiny green floor
10 March 2015
FLEXIS pads are the ultimate solution for daily floor cleaning and polishing.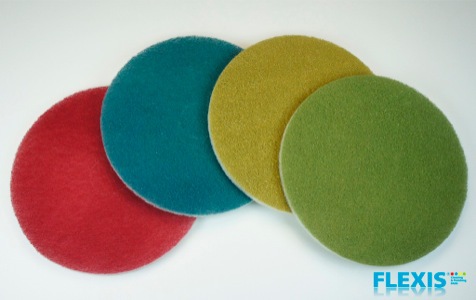 Developed by KGS DIAMOND, they are made with the latest FERRZON+ technology based on microscopic crystals. Whether it's airports, schools, hotels or hospitals, the FLEXIS pads have been designed and produced for every kind of floor (i.e. terrazzo, marble, granite, concrete, linoleum etc.) and can be used wet or dry on any type of machine (scrubber driers, UHS propane burnishers, oscillating or single head machines).
Thanks to FERRZON+ technology, the pads have long lasting results, they are stronger, thicker, provide a consistent finish and have excellent longevity. Wet or dry, you just have to follow a 4 step process :
FLEXIS Red pad - Coarse - 400: is used for heavy duty surface renovation, badly worn floors and as a base to establish a good starting point for the rest of the process.
FLEXIS Blue pad - Medium - 800: is used for deep cleaning, produces an economical light reflective finish.
FLEXIS Yellow pad - Fine - 1500: is intended for daily polishing and cleaning, produces a clear reflective shine.
FLEXIS Green pad - Very fine - 3000: used wet or dry, finishes the 4 step process leaving a polish to the floor with the highest shine available. Daily use will maintain and improve the polish.
Not only easy to use, the FLEXIS pads are also environmentally-friendly. Indeed, cleaning the floor using FLEXIS means - just use water - without the need of chemicals.
Save time, money and energy, and be environmentally responsible at the same time!
FLEXIS products are available on the Robert Scott/Contico stand (F34D) at the Facilities Management Show, NEC Birmingham, 24-26 March 2015.
OTHER ARTICLES IN THIS SECTION