ARTICLE
Floor cleaning guide
19 June 2018
To simplify the method of mechanically deep cleaning and maintaining floors using diamond cleaning pads and just water, The Preparation Group, a specialist in floor preparation and finishing, has produced a Floor Cleaning Guide for its Storm Diamond Pads.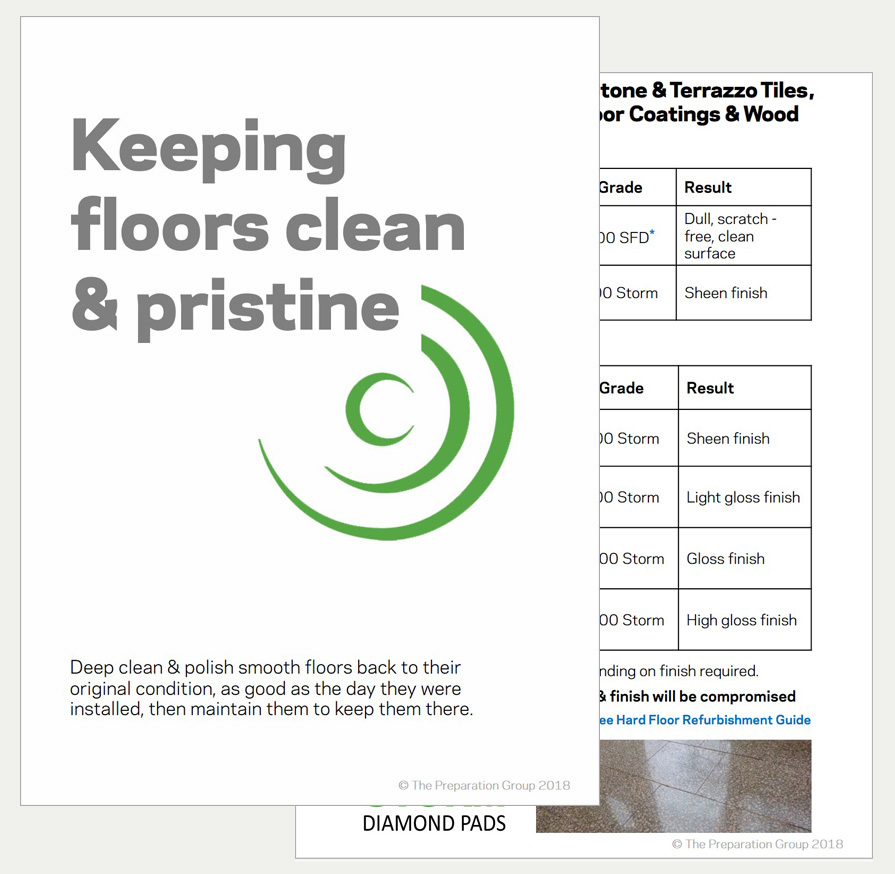 Storms are a range of diamond infused, specialist cleaning pads designed to fit all scrubber dryers, rotary cleaning machines and burnishers. A denser pad, they are described as not only highly effective, but also durable and double-sided for more floor coverage.
Storm Diamond Pads have no confusing colours, just four simple grades from coarse to extra fine. The new Floor Cleaning Guide clearly shows which pad to use by floor type and condition and the result that will be achieved.
There are solutions to tackle soiled, stained, lightly scratched and heavily trafficked floor surfaces including vinyl, linoleum, marble, natural stone, terrazzo, resin, floor coatings, wood, polished concrete, screeds and granite. E.g. to deep clean soiled or lightly stained terrazzo tiles, a 400 Storm Pad would give a sheen finish. To maintain a heavily trafficked vinyl floor, a 1500 Storm Pad would leave a light gloss.
OTHER ARTICLES IN THIS SECTION