ARTICLE
Mall floors restored
11 February 2014
3M floor pads have put an added gloss on the experiences of shoppers at thecentre:mk, one of the UK's busiest shopping centres, by restoring the shine to the centre's Grade 2 Listed Travertine Stone Floors.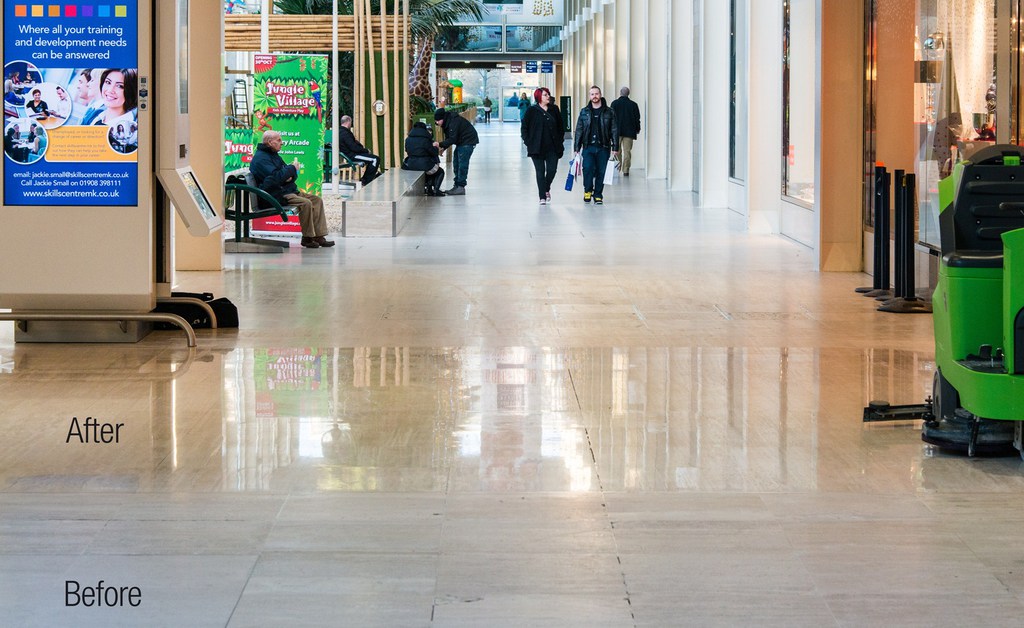 By specifying 3M, contract cleaner Europa has also made the floors quicker, easier and cheaper to maintain, to the delight of thecentre:mk's management company, CBRE.
"Enhancing the experience for visitors and tenants is a critical part of our future strategy" says CBRE Operations Manager Brad Curcillo. "Additionally with the Travertine Stone Floor being Grade 2 Listed, we have an obligation to enhance and protect it."
3M Scotch-Brite Surface Preparation (SPP) floor pads were used to deep-clean the floor and remove stains without the need for any chemical strippers. Two grades of 3M Trizact HX Discs were then used to grind and polish the dull and scratched floor to a smooth sheen, without reducing slip resistance. Finally, 3M Scotch-Brite High-Shine Purple Pads were used to buff and polish the floor to a brilliant shine.
Having restored the floors Europa is now able to maintain them all year-round at a lower cost, with minimal mess and operational downtime. The 3M floor pads strip and clean with fewer passes than the previous system, which is said to significantly increase productivity. They also clean deeper so the floors don't need to be revisited as often, reducing labour costs. Furthermore because they require only water to effectively remove the floor finish, the floor pads are safer and more environmentally friendly to use.
OTHER ARTICLES IN THIS SECTION