Microbead adjustment
19 February 2018
In line with the ban on plastic microbeads, which came into force to help tackle the environmental impact of plastic on wildlife, Citrand has been re-formulated and now contains pumice.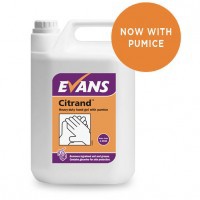 Evans has always been committed to developing products that have minimal impact on the environment. Customers will still benefit from a great, effective hand cleaner but will now be helping in the fight for cleaner, healthier oceans.
The heavy-duty hand gel, which previously contained microbeads, now has fine pumice, which acts as mini scrubbing brushes to remove difficult soil. The refreshing citrus fragrance makes it pleasant to use and glycerine offers added skin protection.
Ideal for use in garages, engineering workshops, warehouses, construction sites and general industry. It will rinse off easily in warm or cold water.
Citrand is suitable for use through the Evans Evolve dispenser or direct from the 5 L container using a pelican pump.
OTHER ARTICLES IN THIS SECTION