ARTICLE
e:dose washroom now with bactericidal power
21 March 2016
Evans Vanodine has recently re-formulated its super concentrate EC9 Washroom, which is now proven bactericidal.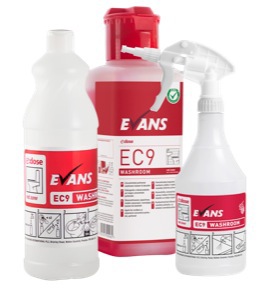 The multi-surface, cleaner descaler now cleans and kills bacteria in one operation, passing EN 1276, under dirty conditions at 1:60 with 5 minute contact time. It removes soil, soap scum and limescale from a variety of hard, washable surfaces and leaves behind a long lasting, floral fragrance, making it an ideal choice for busy washrooms.
EC9 Washroom is designed for use through the EC9, screen printed, foaming trigger spray, which creates a foam solution for longer surface contact time. A specialised, flip top, toilet cleaner bottle has also been added to the range, meaning the bactericidal cleaner can now be used for inside toilet bowls and urinals. It is also an ideal product for damp mopping ceramic floor tiles, as well as porcelain, stainless steel and chrome surfaces.
EC9 Washroom is part of the e:dose range of super concentrate products, a colour-coordinated dosing system which covers all significant sections of the daily cleaning schedule. The e:dose system, packed in 1lt dosing bottles and 5lt refills, ensures accurate dosing, reduces wastage and minimises transport, helping to lower your impact on the environment.
Find out more via the e:dose section of the Evans Vanodine website http://www.evansvanodine.co.uk/edose/index.html
OTHER ARTICLES IN THIS SECTION