ARTICLE
Milestone year
14 April 2018
Cleaning manufacturer and supplier, Robert Scott, is preparing for a milestone year at Interclean as the company readies itself to showcase some of its latest innovations, along with a range of its bestsellers and customer favourites, which have been refreshed with a new packaging concept as part of the company's rebrand.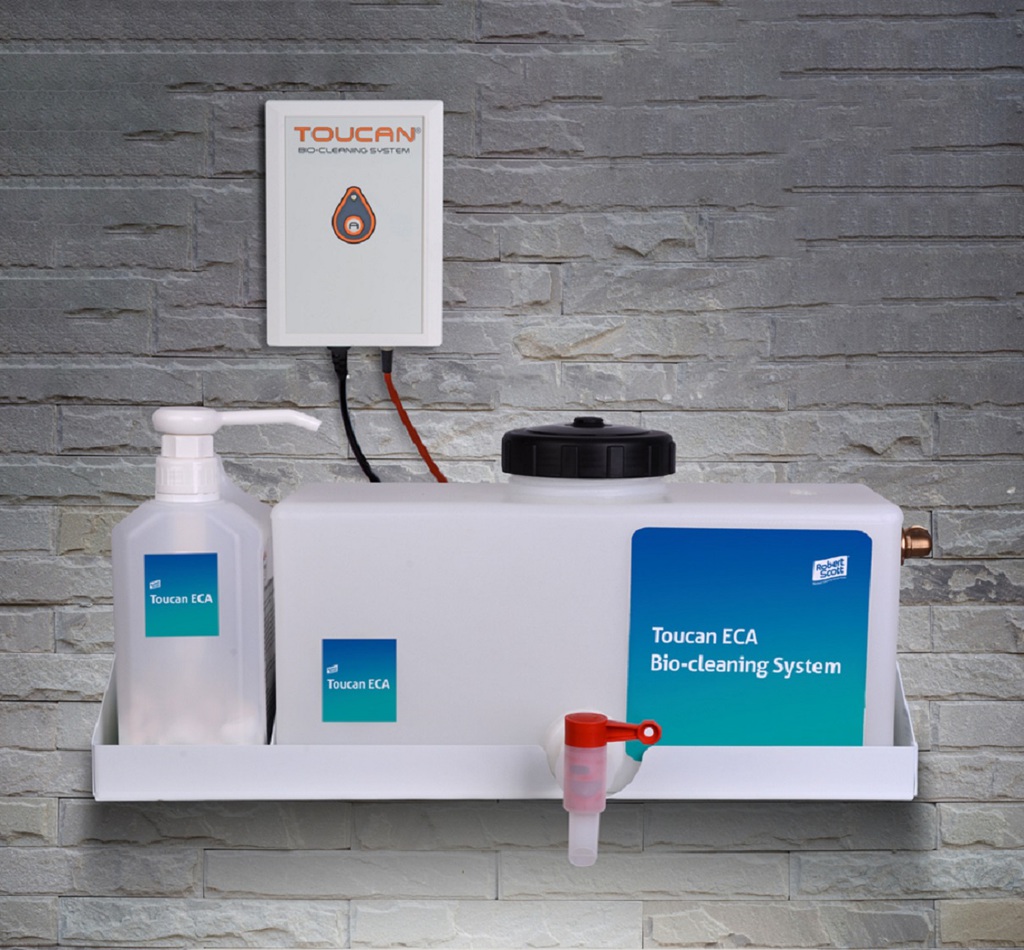 One of the products showcased by Robert Scott this year is the company's Toucan ECA bio-cleaning system. Toucan is an electrochemically activated system with only two components – water (straight from the tap) and table salt (sodium chloride), which is dissolved in the water. Together they create a powerful, naturally-occurring disinfectant, cleaner and sanitiser that's safe, non-toxic, non-allergenic, environmentally friendly and low cost. Product specialist, Steve Courtney, will be demonstrating the cleaning system at the show and will be on hand to advise customers of the business benefits of using Toucan ECA.
Other new innovations from Robert Scott include Hi-absorb cloth, a multi-purpose, highly absorbent microfibre cloth that offers a more durable solution for both commercial and domestic surface cleaning; the Stream mop – a double-sided microfibre flat mop that allows more surface area to be cleaned with one mop saving time, reducing laundry costs and halving stock, and the microfibre Handy mitt designed for quick, effective surface cleaning without chemicals.
Robert Scott's team will also be on hand, armed with their cleaning know-how, to guide delegates through the extensive product range, offering live demonstrations, one-to-one advice, how-to guides and product samples.
Alastair Scott, sales director at Robert Scott, said: "Our aim for this year's Interclean show is to introduce both existing and potential customers to the new look of our company, new products, new catalogue and the new distributor website. We're keen to sit down and chat people through our reasons for the rebrand and share with them our ideas for the bright future we believe is ahead.
"The whole team is looking forward to sharing their knowledge on the new innovations that we have to showcase; the results the products have been delivering for customers so far are extremely encouraging. We'd also like to get more customers involved with product training for their end users so we can help them to identify any areas where efficiencies in their cleaning processes can be made."
If you'd like to arrange an appointment with Robert Scott at this year's Interclean Show simply email info@robert-scott.co.uk.
Stand 01.501
OTHER ARTICLES IN THIS SECTION