ARTICLE
Chemicals help canal boat clean-ups
25 July 2017
Located at Napton Junction, where the Grand Union and Oxford Canals meet, canal narrowboat hire provider Calcutt Boats operates a hire fleet of 15 narrowboats.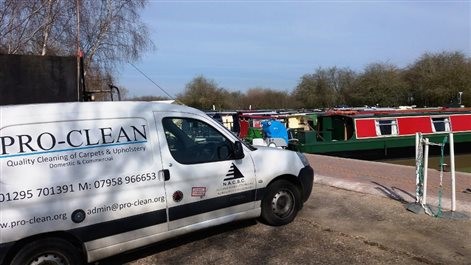 Around 6ft wide and up to 60ft long, and with the whole family on board, they can get grubby quickly on a wet day.
Which is why last summer Calcutt asked Banbury-based contractor Pro-Clean to clean the boat interiors. What started as a one-off clean has now grown into a regular trip to the marina for Pro-Clean's Neil Webber and his team with up to six vessels cleaned a week.
"The customer used to clean the boats themselves but the extractor being used was taking them three times longer than we found we could achieve with our equipment using Prochem chemicals, so now we are canal regulars," Neil said.
Neil cites Prochem solutions as the right package for the job. "We use Trafficlean for carpets - which are on the walls as well as the floor! - along with Neutra-Soft, Urine Neutraliser and Fibre Shampoo," he said.
And it's not all plain sailing. Neil added: "The spaces are confined with restricted access and a lot of work is carried out on all fours in some areas," Neil added. "But we do love the work and it makes a change from crime and trauma scenes."
Pro-Clean provides a professional, discreet trauma cleaning service throughout Oxfordshire and the West Midlands, as well as across the UK. Prochem solutions again play an important role in the clean-ups.
OTHER ARTICLES IN THIS SECTION