ARTICLE
User-friendly catalogue
20 April 2015
Prochem Europe's new 2015 catalogue and price list adopts the company's revised droplet-themed corporate branding, launched at March's Cleaning Show in London, across a 40-page glossy A4 publication.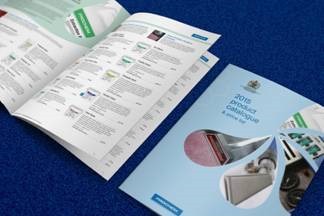 The catalogue is designed to be clean to look at, easy to read and use, with technical specification data now deployed to the company website, leaving more space for images and feature summaries.
Colour coded sections span cleaning products, machines, truck mount systems, accessories and training products and services from Prochem Europe, the UK provider of training to cleaning professionals.
New equipment products and upgrades have been made to the company's Steempro Powermax and Endeavor ranges while its sprayer offer now takes in a new 15-litre re-chargeable battery back-pack option with variable pressure, lance spray and nozzle for carpet applications.
Additions to the company's extensive chemicals offer include fine fabric solvent cleaners, solvent cleaner additives, plus a new odour neutraliser additive for spray or cleaning solutions. All 5-litre containers now feature latest child-resistant clic-loc caps.
OTHER ARTICLES IN THIS SECTION