ARTICLE
A breath of fresh air from Evans Vanodine
28 March 2017
Evans Vanodine has introduced a new concentrate to its e:dose range. The latest addition is EC8 AIR FRESHENER, a super concentrated air freshener and fabric deodoriser.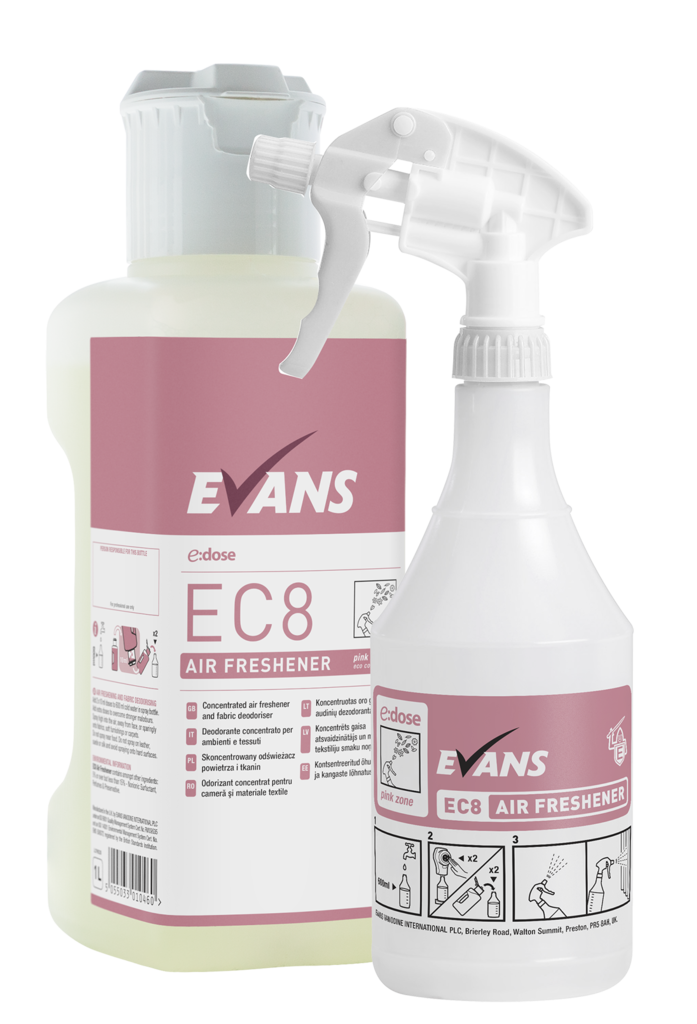 It contains a patented ingredient to counteract malodours and enable the perfume to deliver a long-lasting fragrance, with appealing notes of lime, jasmine and rose.
EC8 AIR FRESHENER is ideal for use in hotels, reception areas, washrooms and the leisure industry. It is also suitable for deodorising fabrics which cannot be cleaned in a washing machine, such as curtains, soft furnishings and carpets. The non-flammable formulation is low dosage and very economical in use; each 1 litre makes 50 trigger sprays of air freshener.
EC8 AIR FRESHENER is available in the e:dose 1 litre bottle with dosing cap. Colour-coded, screen printed trigger spray bottles are also available.
Other products from the range include: EC2 DEGREASER, for heavy-duty cleaning; EC4 SANITISER, passes EN 1276; EC6 ALL PURPOSE for hard washable surfaces; EC7 HEAVY DUTY for tougher cleaning jobs and EC9 WASHROOM, which also passes EN 1276.
To find out more about the e:dose range visit the Evans Vanodine website http://www.evansvanodine.co.uk/edose/index.html
OTHER ARTICLES IN THIS SECTION