ARTICLE
Does your bactericidal hand wash kill 99.999% of bacteria?
02 June 2014
In order for a hand wash to be truly bactericidal, the level of kill rate required to pass EN 1276 is 99.999%, anything less will not be effective enough to ensure reliable infection and cross contamination control.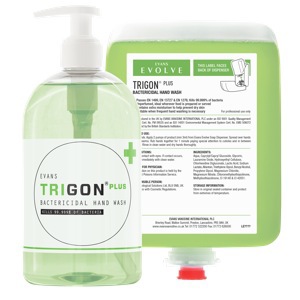 Trigon Plus is the latest, highly efficient addition to the Evans Vanodine Skin Care range, developed by its experienced research and development chemists.
Trigon Plus is an unperfumed bactericidal liquid hand wash, which passes EN 1499, tested on volunteers hands, EN 13727 and EN 1276, proven to kill 99.999% of bacteria.
Trigon Plus helps reduce the risk of cross contamination and as an unperfumed product, it is ideal for use in catering, food preparation and processing areas, as well as healthcare, nursing homes and wherever hand hygiene is of the utmost importance. It contains moisturising ingredients which are gentle to the skin, helping to soothe the skin when frequent hand washing is necessary.
Trigon Plus is supplied in a 500ml pump bottle, 5 litre refill and a 1 litre cartridge, for use in the Evans Evolve dispenser. Together with Trigon Foam Plus, Evans Vanodine is able to offer its customers a range of bactericidal hand washes that actually do work. So whether you are dishing up bacon and eggs or spooning out caviar, make sure you wash your hands using a proven bactericidal hand wash.
OTHER ARTICLES IN THIS SECTION