ARTICLE
See Katrin's Inclusive Dispensers at ISSA/INTERCLEAN
29 April 2016
Katrin has great news to share. At ISSA/INTERCLEAN 2016 everything revolves around its new Katrin Inclusive Dispensers. This new range takes into account the needs of a wide selection of users, including children, the elderly and those who are visually impaired or have physical disabilities.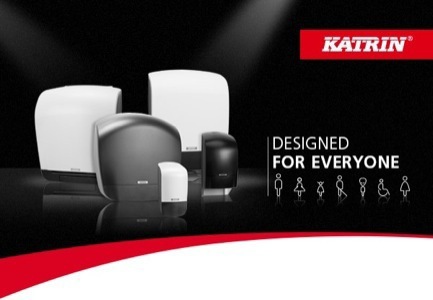 Stylishly designed in either black or white, the range has innovative features that ease handling and maintenance whilst improving efficiency. With Katrin Inclusive Dispensers, the paper is easy to remove, and can be pulled out with one hand. Contrasting colours make the dispenser openings easy to see. Large "push faces" are effortless to use, and braille text also helps the visually impaired. Dispensers that open upwards make it much easier for people of all heights to fill and simple graphical signage shows how they should be used and maintained.
All of the dispensers are easy to disassemble and are made from durable ABS and polypropylene plastic, both of which are totally reusable. No matter which tissue product, soap, or complete dispensing system you choose all Katrin products are efficient, reduce waste and are said to optimize your hygiene in the best way!
Metsa Tissue says: "We are looking forward to presenting our tissue assortment and our new Inclusive Dispensers to you in person, so please come and visit us on 10. - 13. May 2016 at ISSA/INTERCLEAN in Amsterdam, hall 10, stand 305."
OTHER ARTICLES IN THIS SECTION