ARTICLE
Trio of innovations tackle washroom challenges
20 June 2018
The Tork stand at Interclean Amsterdam was packed to capacity as visitors queued up to discover more about the company's three key innovations.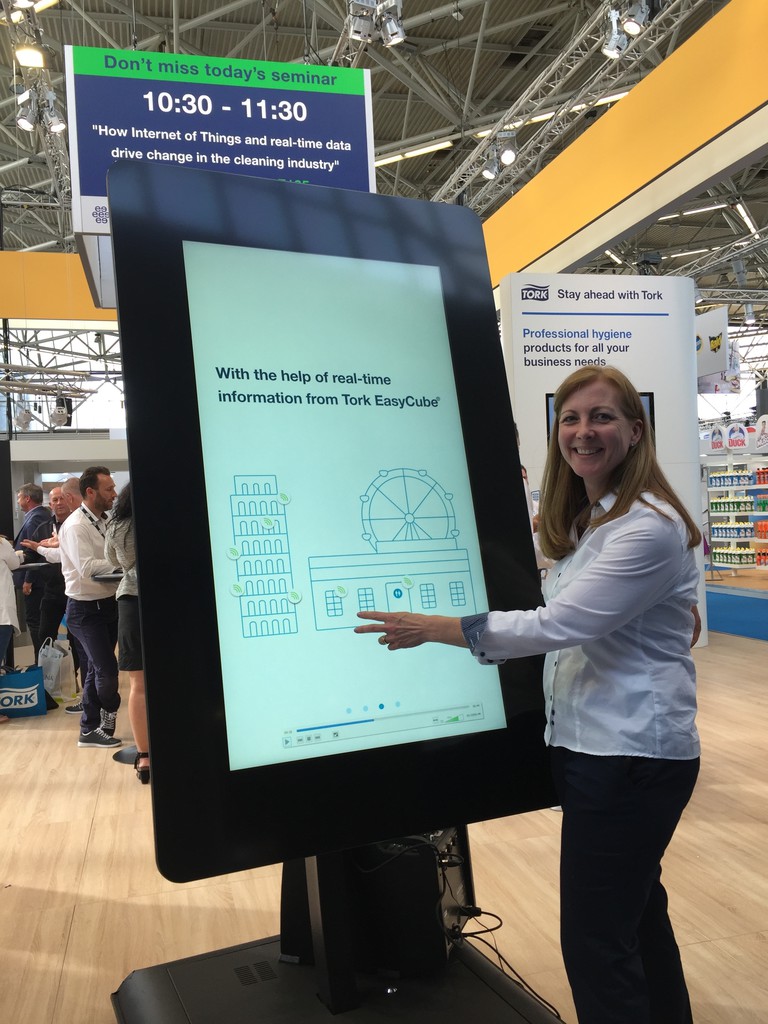 Tork PeakServe Continuous Hand Towel, Tork EasyCube and Tork PaperCircle have all been developed to meet the demands of the most challenging of high-traffic environments.
"Visitors were very interested in all three innovations," said Tork stand project manager Hazel Wenzel. "We demonstrated how customers could revolutionise their businesses by implementing our systems and they were impressed by our arguments.
"The stand attracted a great deal of interest and we started a large number of valuable conversations with customers who related to the challenge of washroom mangement."
Tork PeakServe is a fast and efficient hand towel system aimed at high-traffic environments such as stadiums, arenas, healthcare facilities and exhibition halls. It provides each washroom visitor with a towel in just three seconds and caters for 250 per cent more guests between refills than conventional hand towel units.
Tork EasyCube is a facility management software that alerts cleaning staff via a smartphone or tablet when a dispenser needs refilling or when extra cleaning is required. Tork EasyCube is currently in use in more than 80 facilities globally including airports, retail complexes, offices, healthcare facilities and amusement parks.
A two-metre high "tablet" displaying the web-based Value Quantification Tool – which allows potential clients to calculate how much they could save by using Tork EasyCube – was a highlight of the stand.
"People could touch it and swipe it, and it provided a novel way for stand visitors to find out more about Tork EasyCube," Hazel said.
The third innovation – Tork PaperCircle – won two awards at Interclean: the Innovation Award for Management, Training Solutions and Related Products, and the Visitor's Choice Award 2018. This followed an online poll conducted among Interclean Amsterdam visitors.
Tork PaperCircle is a hand towel recycling service in which used paper towels are taken away to Essity mills and recycled into products such as toilet paper and couch rolls. Pilot Tork PaperCircle schemes are currently in place in Germany, Belgium and the Netherlands and will soon be extended to Sweden.
"Our 50 years of insights and customer focus are always driving us towards innovations that add value," says Don Lewis, president for professional hygiene at Essity. "The Tork PaperCircle service is one of a kind and will drive circularity discussions within our industry and help our customers stay ahead of sustainability expectations."
Essity also hosted a successful series of seminars at Interclean in conjunction with Microsoft, the company's software partner for Tork EasyCube.
OTHER ARTICLES IN THIS SECTION