ARTICLE
Product searches made easier
14 December 2015
The Tork websites have been given a new look and a new search function to make finding products easier than ever.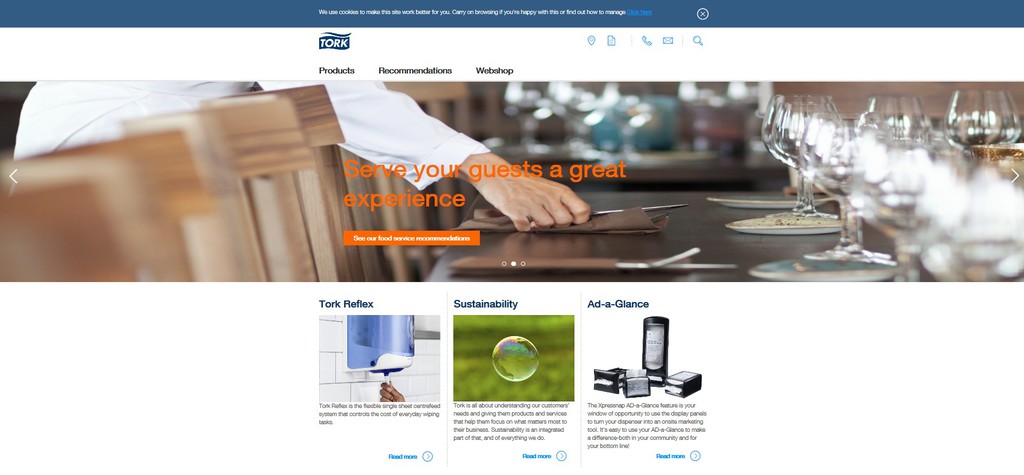 The new Tork UK and for the first time, the Tork Ireland site are particularly simple to navigate, allowing customers and distributors to search for products both by application and by industry sector.
"Following a major makeover the Tork websites have a highly contemporary feel," said SCA marketing communications manager Jamie Wright. "They have also been optimised to work on all devices regardless of screen size or type. This means that it is easier than ever for our distributors and customers to find out everything they need to know about Tork products on the go."
Besides splitting customer groups into areas such as Healthcare, Hotels, Food Service and Industry, the site also divides these sectors into sub-groups. Product recommendations for each are clearly indicated on the site.
"For example, the Healthcare section covers all those products that are suitable for use by patients, medical staff and visitors – but these groups all have different needs," said Jamie. "So this section is split into areas such as Scrub Room, Residential Care, Treatment Room and Wash Station and product recommendations are provided for each."
Scrub Room recommendations include Tork Premium Alcohol Hand Sanitiser which is designed to complement the use of soap and hand towels, while Wash Station suggestions include Tork Xpress Extra Soft Multifold Hand Towels. These are kind to the skin even when used for frequent hand washing. They are also highly absorbent to improve drying efficiency.
The enhanced Tork websites for UK and Ireland can be accessed at www.tork.co.uk and www.tork.ie.
OTHER ARTICLES IN THIS SECTION