ARTICLE
Workplace hygiene stand
12 April 2018
Tork manufacturer Essity has introduced a hygiene stand that accommodates Tork Alcohol Foam Hand Sanitiser and a box of Tork Facial Tissues. This provides staff and visitors with easy access to hygiene facilities in workplace reception areas, meeting rooms and shared office spaces.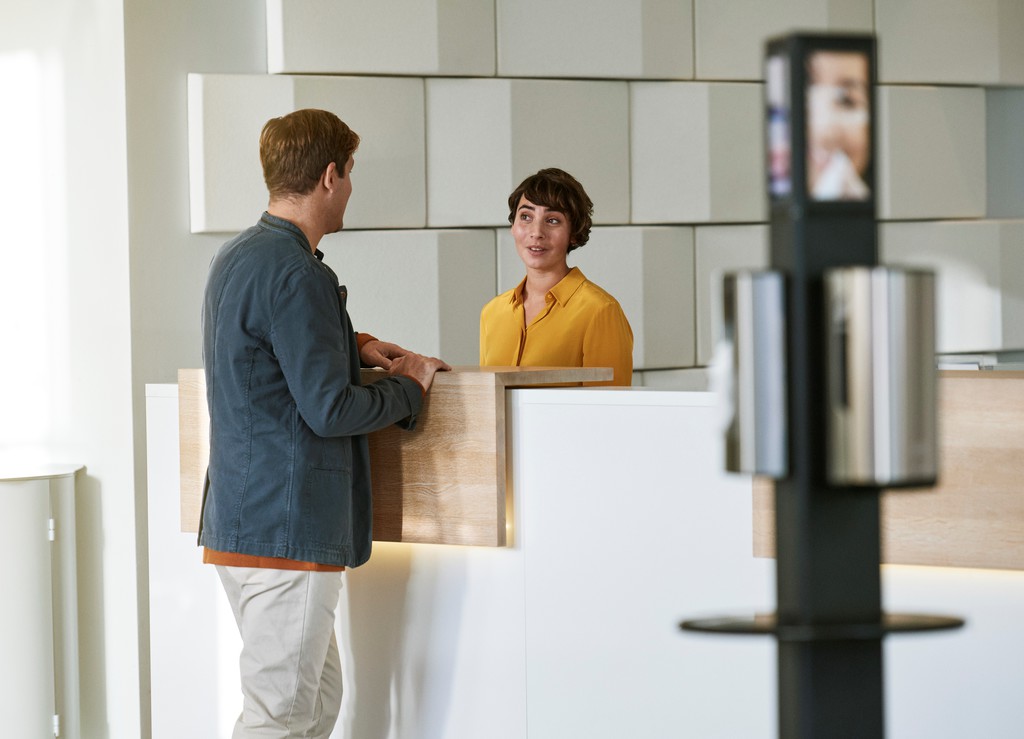 "Colds and flu are perennial problems in the office environment – and it's no wonder," said Tork FM sector sales manager Stuart Hands. "Many people today struggle in to work even when they are suffering from an infection or virus. And they will often greet colleagues and customers with a hand-shake even though they are ill.
"Anyone with a cold who blows their nose and goes on to shake hands with someone else may well pass on their illness. The Tork Hygiene Stand ensures that every employee has a tissue when they need one – and a means of sanitising their hands after using it."
The freestanding unit forms part of a complete range of Tork workplace cleaning and hygiene systems – all of which feature in the Tork Office Web Tool. This provides facilities managers with a comprehensive web-based checklist to help them equip each area of their building with essential cleaning and hygiene supplies.
The tool uses an interactive graphic of an office to highlight hygiene and cleaning challenges in each part of a facility. Recommendations are then given on how to meet these challenges.
"The office as we know it is changing and new cleaning challenges are arising from practices such as hot-desking, shared equipment and the increasing use of touchscreens," said Stuart.
"Facilities managers are expected to be experts in a wide range of fields including fire safety, security, landscaping and catering which means they may not have time to consider the finer details of hygiene supplies. Our web tool makes it easier for them to tick off the items they need when equipping the meeting room, office, reception area, break room and washroom."
The new Tork Hygiene Stand supports the long-running NHS: "Catch it. Bin it. Kill it" campaign. This urges people suffering from colds and flu to catch coughs and sneezes in a tissue; throw the tissue away afterwards and then wash their hands to kill the germs.
The Tork Hygiene Stand incorporates a window where branding messages and hand hygiene prompts may be displayed.
"This new product will be invaluable for offices since it can help reduce sickness and absenteeism," said Stuart. "By providing tissues and a hand sanitiser in prominent positions – along with a display area for hand hygiene prompts – staff and visitors are constantly reminded of the need to practice good hygiene in order to stay healthy."
The Tork Web Tool can be accessed at:
www.tork.co.uk/office
OTHER ARTICLES IN THIS SECTION