ARTICLE
Boost efficiency in washrooms and kitchens
05 March 2019
Tork manufacturer Essity will demonstrate its versatility and commitment to innovation by exhibiting a wide range of products at this year's Cleaning Show.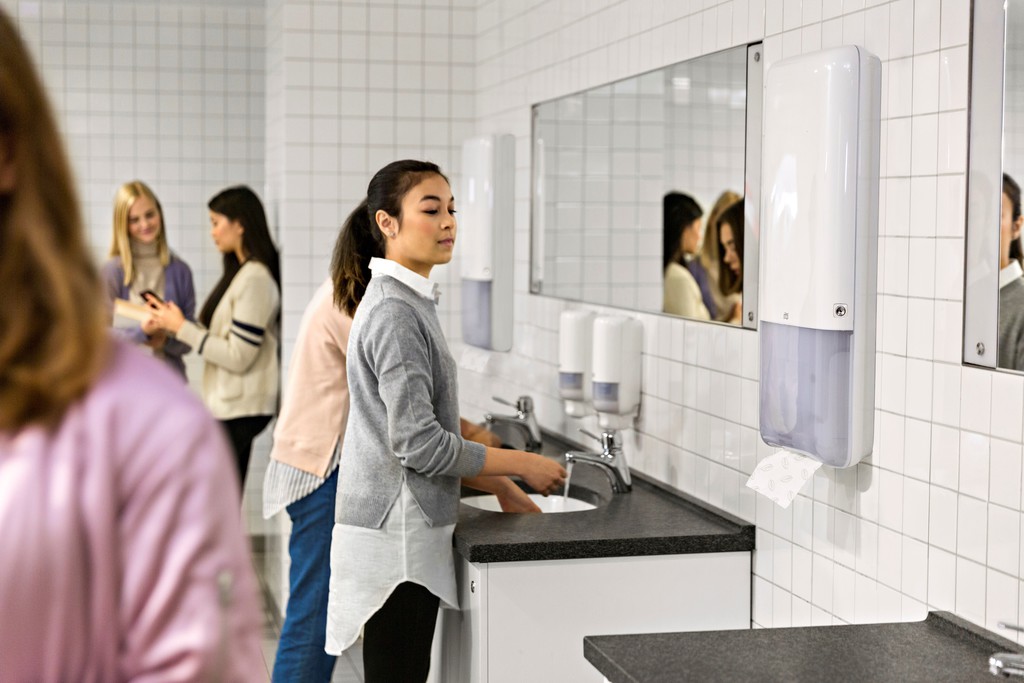 The company will be highlighting the Tork PeakServe hand towel system; Tork EasyCube, which is smartening up cleaning procedures in washrooms everywhere, and Tork Reflex which is improving kitchen flow and enhancing efficiency in commercial kitchens.
Also on show will be the Tork SmartOne Mini Twin, a highly practical alternative to the jumbo roll, along with a full range of skincare products.
"We have introduced a series of innovations and upgrades to the market over the past few years and we're keen to show them all off to our customers at once," said Essity's sales manager Stuart Hands. "We believe the Cleaning Show will serve as the ideal multi-product platform."
Aimed at high-traffic washrooms in environments such as airports, busy service stations and stadiums, Tork PeakServe caters for over 1,000 washroom visitors between refills - more than double the amount as most other dispensers.
Hand towels in the Tork PeakServe system are compressed by 50 per cent during production which doubles the number of towels that can fit into the dispenser while also reducing refilling time by half.
Towels in the unit are divided into five bundles which are linked together to ensure a continuous supply. And a new bundle may be inserted into the dispenser at any time which means that it can be topped up whenever it suits the cleaner.
Designed to make life easier for cleaners in large, sprawling facilities such as amusement parks and zoos is Tork EasyCube. This digital software uses sensors to "connect" washroom facilities and allow the cleaner to check via a smartphone or tablet when a dispenser is running low or when a facility is experiencing particularly heavy traffic. The system dramatically reduces the cleaner's maintenance load and makes it easier for staff to maintain a site where the washrooms are widely spread out.
The Tork Reflex system has recently been improved to make it easier to use and boost efficiency in the kitchen. The dispenser has a new rotating nozzle that allows the user to tear off a length of paper in one fluid motion from any angle, speeding up delivery.
The Tork SmartOne Twin Mini Toilet Roll System reduces consumption by up to 40 per cent compared with jumbo roll dispensers, which prevents it from running out between maintenance checks. The twin-roll system means it is easy to top up with a new roll at any time, while the SmartCore© core makes is quick and easy to refill.
And also from Tork is a complete range of liquid and foam soaps that are easy to use, quick to refill and available in a range of options including Luxury, Mild and Extra Mild formats.
Stand C10
OTHER ARTICLES IN THIS SECTION