ARTICLE
Robo 2 wins European Cleaning Award
25 November 2016
Industrial Cleaning Equipment (ICE) are absolutely thrilled to have won a 2016 European Cleaning and Hygiene Award. Its Robo 2 won the 'Groundbreaking Technological Innovation of the Year' category, beating stiff competition from other fantastic innovations.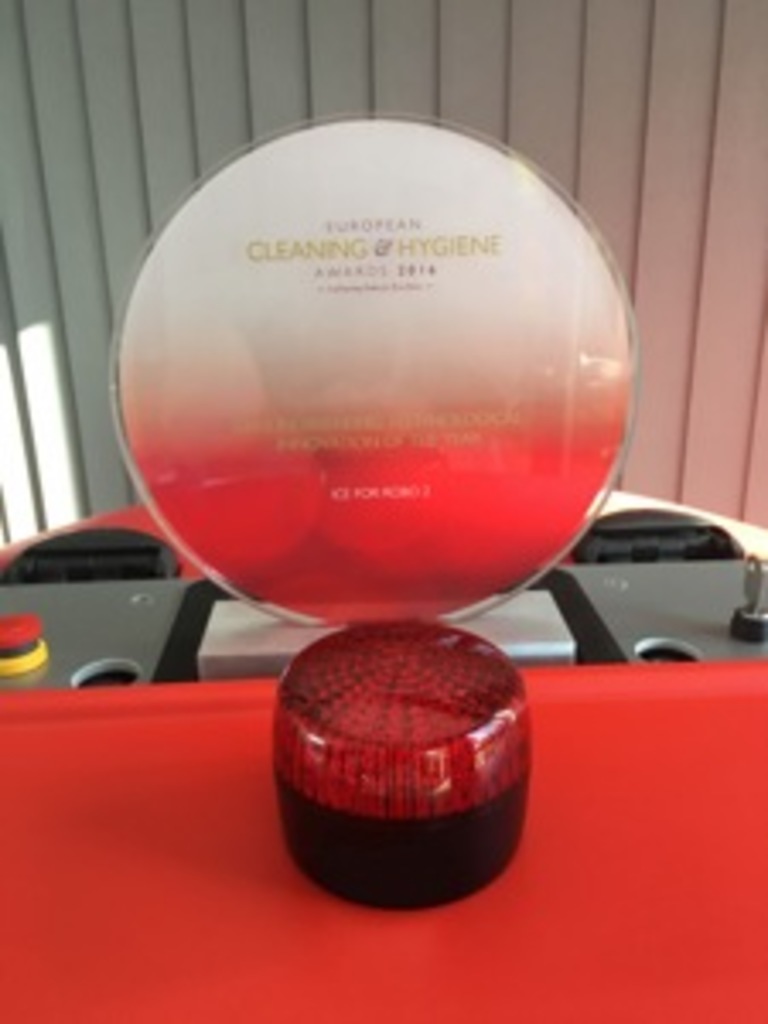 ICE are delighted to be declared winners and would like to thank the European Cleaning Journal for hosting a fantastic awards ceremony.
ICE CEO Mark Bresnihan said: "We are extremely pleased that our machine continues to be recognised for the true innovation and differentiation it delivers to the market. Whilst robotic technology is still in its infancy within cleaning, we are seeing huge interest and pace in clients embracing the technology, together with a different approach and methodology to those traditional cleaning tasks and processes.
"We are very confident in our product and its capability, none of which of course is deliverable without the right product support, service infrastructure and package to back it up. This is the second innovation award we have received this year, which tells us the market recognises and respects the innovation we are bringing to the fore and that it does deliver value."
ICE have been at the forefront of developing robotic cleaning machines for the past 7 years, and we are extremely proud to be leading the market with the award-winning Robo 2, which was officially launched in May 2016.
ICE says that the Robo 2 is the most advanced fully autonomous cleaning machine in the world and that it is the only machine of its kind that will clean complex areas, thanks to its unique laser and sensor technology. It offers unlimited cleaning patterns, and consistent cleaning right up to the edge, and is claimed to out-perform any other robotic machine when cleaning tight corners, edges and complex rooms.
The Robo 2 is ideal for a wide range of environments including hospitals and healthcare facilities; schools, colleges and universities; food and high street retail stores; airports and train stations; and warehouse and manufacturing facilities.
The award-winning Robo 2 is available now with guaranteed savings and efficiencies of up to 50%.
OTHER ARTICLES IN THIS SECTION