ARTICLE
Warewashing system additions
20 April 2016
Ecolab has extended the product range of its Apex warewashing system.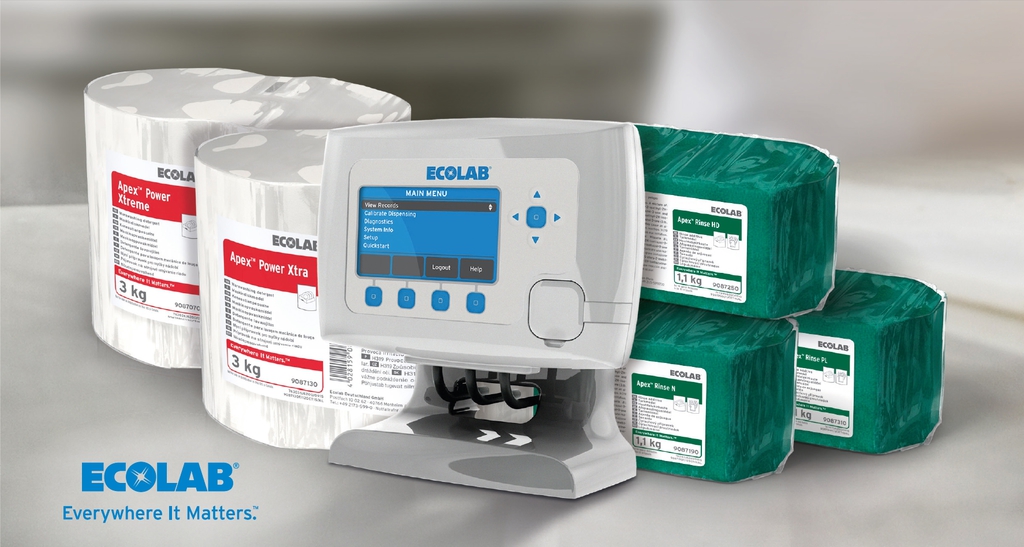 Apex is designed to provide the cleaning results restaurant and food service operators expect, while reducing water and energy use and making the warewashing process simpler and safer for kitchen staff.
"Apex is the gold standard that gives customers greater control over the warewashing process," said Bryan Maser, vice president, institutional marketing, Europe, Ecolab. "This leads to superior cleaning performance and lower operational costs."
Apex achieves this by reducing the need to rewash items, resulting in improved sustainability through lower water and energy use. In addition, the system's solid detergent technology reduces packaging by more than 95 per cent.
Field tests showed that, compared to the average rack dish machine, Apex helps to: save up to 3,700 kWh of energy annually; conserve up to 27,500 liters of water per year; and reduce waste by up to 60 kg of plastic annually.
The new Apex products include two new machine warewashing detergents that provide impressive cleaning and stain removal. Apex Power Xtra has been developed for high soil loads whilst Apex Power Xtreme is for the removal of food starch and stains. Ecolab has also introduced three new Rinse Aids: Apex Rinse N - an improved rinse additive for higher performance; Apex Rinse HD – formulated for high total dissolved solid content; and Apex Rinse PL, which is specifically for plastic ware.
The Apex system's controller provides real-time monitoring of operations and logs critical elements of the warewashing process, such as wash and final rinse temperatures. This enables Ecolab to establish and maintain first-class results, and reduce total operational costs for customers.
A comparative study, undertaken by Ecolab and the Institute for Work Safety in Germany, found using solid warewashing products reduced body strains by up to 90 percent when compared with liquids. The solid products are lighter and easier to lift, and will not spill, helping to improve employee safety.
OTHER ARTICLES IN THIS SECTION