ARTICLE
Serving the needs of a broader range of users
18 March 2016
Metsä Tissue has recently introduced a new range of Katrin dispensers called the Katrin Inclusive Range. This new range has been designed in collaboration with industry experts, as well as a wide variety of customers and end-users right across Europe, and takes into account the needs of a wide selection of users, including children, the elderly and those who are visually impaired, or have physical disabilities.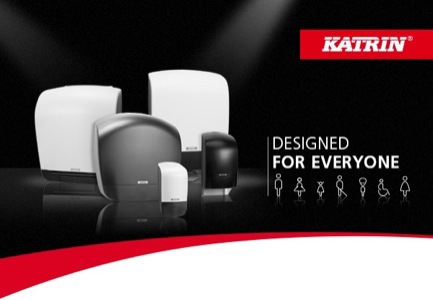 Unseen difficulties
But how great is the need for such functionality?
Mark Dewick takes up the story: "Legislation in the UK and across Europe makes all companies legally and morally obligated to actively do all we can to make access to our products and services as easy as possible, and this is what Metsä Tissue has done with these new Katrin Inclusive Dispensers."
He continues: "This was really brought home to us at a recent event we ran, where a blind architect outlined the difficulties he encounters trying to use a washroom."
Some of the things that the gentlemen explained include:
On entering the washroom, he uses the wall to find his way to the right facility – but he has to try and work out if there are urinals, cubicles etc. This requires a "lot" of touching. For this reason, centrally placed islands, with washbowls are a nightmare – as tracking around the wall – he may never find these.
Once in a cubicle, he has to feel for toilet roll. If it is lodged on top of something, or on the back of the cistern – it is very easy to knock off – then he is left feeling around the floor for it – not a nice thing at all. He prefers a good solid dispenser on the wall.
He does not like dispensers that have complicated openings, or wheels to turn – he has no context as to what to do in those circumstances.
He does not like "piles" of hand towels on the side – this means he drips water all over them whilst trying to find them. Again, he prefers a good solid dispenser on the wall – that he can quickly "feel his way across to"– where access to the paper is very obvious.
He is not a fan of hot air dryers because it is not obvious from feeling the devices how they work. And the noise can be quite stressful
Mark says: "The issues, once explained in this context, are quite obvious and the Katrin Inclusive range goes some way to resolving some of these."
Special consideration
Features of the range that help address these issues include:
The dispensers are obviously solidly fixed onto a wall/unit
For those with restricted visibility, strong contrasting colours make the dispensers easier to see, especially when they are mounted on a wall of the same colour
Use of large "push faces" eliminates the need to turn 'wheels' to feed paper - something which as explained, can be difficult for some users
For all dispensers, the paper is very easy to remove, and can be pulled out with one hand.
Katrin Inclusive Dispensers also use braille text on all of the 'push faces' to further help visually impaired users in their everyday life.
Dispensers that open upwards make it much easier for people of all heights to fill and maintain the dispensers.
The full-face push surfaces make the dispensers effortless for users of any age to operate and simple graphical signage clearly shows how the dispensers should be used and maintained.
The dispensers also come with fitting guidance, including recommended heights to accommodate wheel chair users in disability washrooms.
Functional, ethical and environmentally sound
The dispensers were launched late in 2015, so what has the response been? Mark explains: "Our customers have welcomed this new range, and the new functionality. Distributors tell us that it gives the dispensers a real advantage over other ranges, and it supports Corporate & Social Responsibility commitments, both for them and their customers.
Mark explains: "Having created an ethical design, the most practical way that we can help Katrin customers to reduce their environmental footprint is to make dispensers which use environmentally-sound tissue papers and are sustainable themselves. Our long-lasting dispensers are only made of materials that can be safely reintroduced into the production cycle."
Katrin Inclusive Dispensers are simple to disassemble and when recycled, the materials can easily be separated from one another. The dispensers are made from durable ABS and polypropylene plastic, both of which are totally reusable.
Cost in use
Not only are they inclusive, functional and environmentally-friendly, but the dispensers also help control labour costs, reduce usage and eliminate wastage. The clear backplates make installation quick and simple, and the clear sides mean that staff can easily see when they need refilling.
Mark explains: "The high capacity of the devices and stub roll functionality combined with hygienic self presenting paper products, delivered in a measured and controlled way, make choosing Katrin a sustainable and responsible choice from every angle."
Rigorously tested
Even the smallest details of the Katrin Inclusive range have been designed and tested to ensure easy and safe usage for everyone. To make sure that the dispensers were ready for the challenges of real life, they have gone through extensive tests which simulated a minimum 20 year lifetime.
The dispensers have even tested for visual appeal. In comparison to other dispensers in the marketplace, the vast majority of the test participants (74%) preferred the design of Katrin Inclusive Dispensers to other products in the market place.
Mark concludes: "With the Katrin Inclusive range, we have created elegant dispensers that will fit with any washroom ambience, and which users have already told us they prefer. More than this, we have taken the time to listen to all users, and from their feedback, create simple but effective design considerations that will have a positive impact for everyone."
OTHER ARTICLES IN THIS SECTION