ARTICLE
e-learning academy
29 June 2015
Holchem, UK leader in hygiene technology, has launched an e-learning training academy.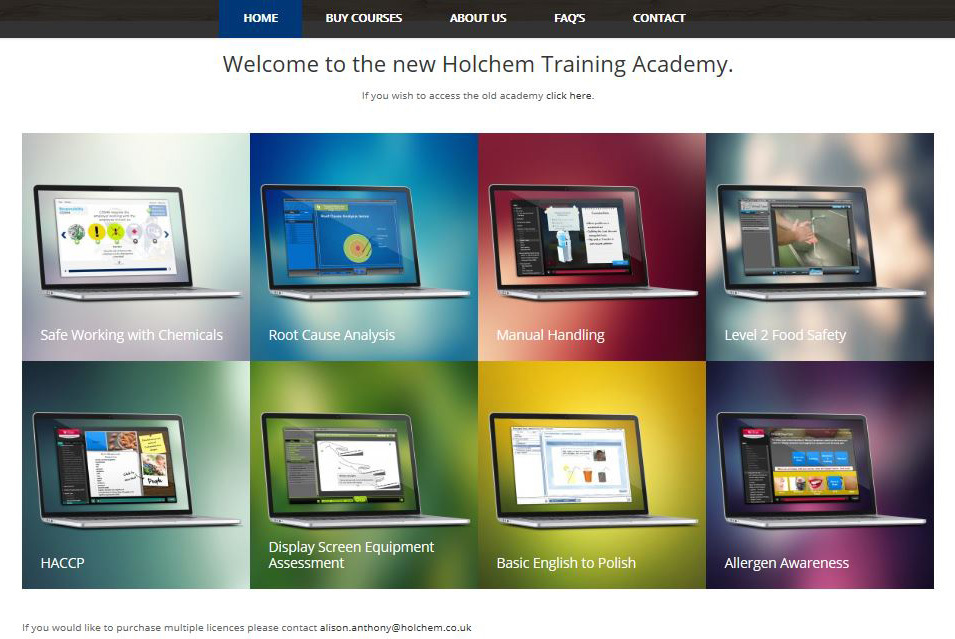 The web-based service: http://holchem.totrain.co.uk/ allows customers and support staff to train themselves through a number of relevant courses including 'Safe Working with Chemicals' and 'Allergen Awareness'.
The web resource was launched to provide companies with an 'always on' service. Conscious that much of the industry works within a shift culture, the Holchem Training Academy means that all employees can find time to be trained on the relevant legislation and guidelines that ensure best working practice. With the new e-learning platform, learners can go at their own pace and time in a classroom is minimised.
Steve Bagshaw, marketing director at Holchem, said: "We spend a lot of time with our customers ensuring they are up to speed with the latest in legislation changes, understanding how to handle new products and what it means for their business practice – but over time it became apparent that we couldn't reach all employees in the classroom.
"Research shows that students learn more using computer-based instruction than they do with conventional ways of teaching so it was a natural evolution of our service that we also provided our training courses online so they can be accessible to all."
The training resource – in partnership with totrain – has launched with a tailored eLearning course on "Listeria Awareness". The course covers bacteria and their growth, sources of bacteria, Listeria facts, Listeriosis cases, Listeria control plan and case studies. Holchem also provide in-situ factory based training providing specific training courses in Listeria Management helping companies develop a pathogen control programme.
The Holchem Training Academy allows the user to create an individual account which can then be used to purchase one of a number of courses. The course costs £50 per licence.
OTHER ARTICLES IN THIS SECTION