ARTICLE
Evans Vanodine & hand hygiene
31 March 2014
Living in an environment where bacteria responsible for contagious diseases is becoming ever more resilient to modern antibiotics, hand washing is one of the most important procedures to protect yourself and others from infection.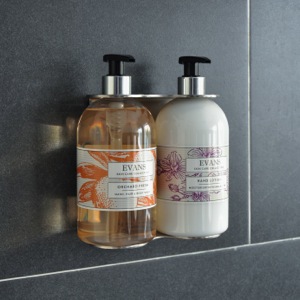 Evans Vanodine hand wash products provide a rich lather to clean hands thoroughly yet, with the benefit of added moisturiser, are mild and gentle enough to help keep skin soft and smooth.
The Evans Vanodine Skin Care Range has been developed to satisfy the extremely high standards essential in today's modern washroom. From Orchard Fresh to Ocean Blue, hand washes are available in 500ml Boston round bottles as well as in bulk refill and cartridges for the Evans Evolve dispenser. They are complemented by Hand Lotion, a top grade moisturiser which contains Shea butter, along with single and twin stainless steel wall brackets.
The Hand Care Plus range has been designed with industry in mind. The range contains products that pass EN 1499 and EN 1276, as well as an alcohol hand sanitiser and barrier cream. All are unperfumed, suitable for the food industry, and contain extra moisturiser, ideal when frequent hand washing is necessary.
All products are manufactured under a procedure which complies with The Cosmetic Products Regulation (123/2009/EC), which came into full effect on 11th July 2013. This covers all cosmetic products sold in the retail and professional markets and ensures all measures have been taken to guarantee the safety of the product and also aims to eliminate misleading product claims.
OTHER ARTICLES IN THIS SECTION