ARTICLE
Driving the quiet revolution
24 October 2013
Mitsubishi Electric Jet Towel hand dryers have been awarded the prestigious Quiet Mark, and international mark of approval award by the Noise Abatement Society.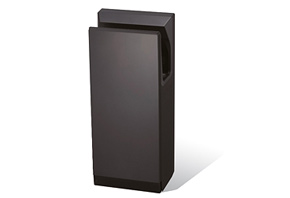 The Quiet Mark encourages manufacturers to embrace noise reduction in the design of everyday machines and appliances. The aim is to make living and working environments healthier and less stressed and thus increase productivity, creativity and wellbeing.
As part of its long term business development strategy Mitsubishi Electric has adopted the mission statement, "Changes for the better". It strives to improve quality of life by developing products which are designed to reduce users' stress and have minimal impact on the environment.
With Jet Towel, Mitsubishi recognises that minimising operating noise can make a significant contribution to personal wellbeing. It produces only 58-61dB for the 9-13 seconds that it takes to thoroughly dry hands. This is compared to typically 80-90dB for 30-40 seconds for other dryers, and does not include high and low frequency sounds that people can find intrusive.
OTHER ARTICLES IN THIS SECTION