ARTICLE
Cleans to microscopic level
21 October 2013
Using the latest ultramicrofibre technology (with fibres 70% finer than conventional fibres) Vikan's EasyShine cleaning tool is said to achieve cost-effective, long lasting cleaning results on glass and polished metal surfaces.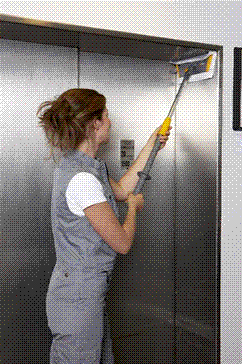 EasyShine removes up to 99.9% of harmful bacteria as well as fingerprints, grease and dirt with just tap water. As EasyShine cleans down to a microscopic level, surfaces stay cleaner longer with no chemical residues – simply spray the mop or cloth with water and clean the surface for a streak-free finish. The telescopic handle extends to a length of 80 cm allowing easy reach up to 2.5 m.
EasyShine is said to clean in a fraction of the time of conventional spray dusting, thus improving productivity and reducing labour costs up to 75%.
OTHER ARTICLES IN THIS SECTION