ARTICLE
For high-level dusting
10 December 2013
Vikan's new Easy Hi Dust Microfibre Kit offers a complete high-level dusting solution in one box for difficult-to-clean areas such as stairwells and pipework.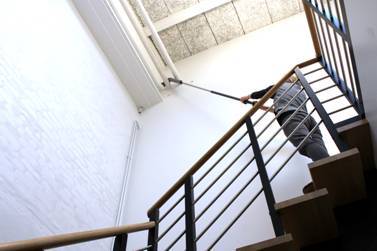 The Vikan kit contains three interior mop microfibre sleeves, three microfibre gloves, an interior mop holder and a high-reach telescopic handle. The microfibre gloves are suitable for cleaning hand rails, stainless steel and other detail work.
The interior mop head can be flexed to clean pipes, high-ledges and behind radiators. The telescopic handle enables reach of up to 5m, making high-level dusting easy and offering a safer alternative to using ladders with conventional equipment.
OTHER ARTICLES IN THIS SECTION