ARTICLE
Better, Faster, Preferred: Introducing GrittyFOAM
05 August 2013
In response to market demand for a powerful cleaner that is gentle on hands and can help to address the challenge of reducing occupational dermatitis in the workplace, the world-leading skin care company Deb Group has announced the launch of GrittyFOAM; the most significant innovation in the company's 70 year involvement with industrial hand cleansing.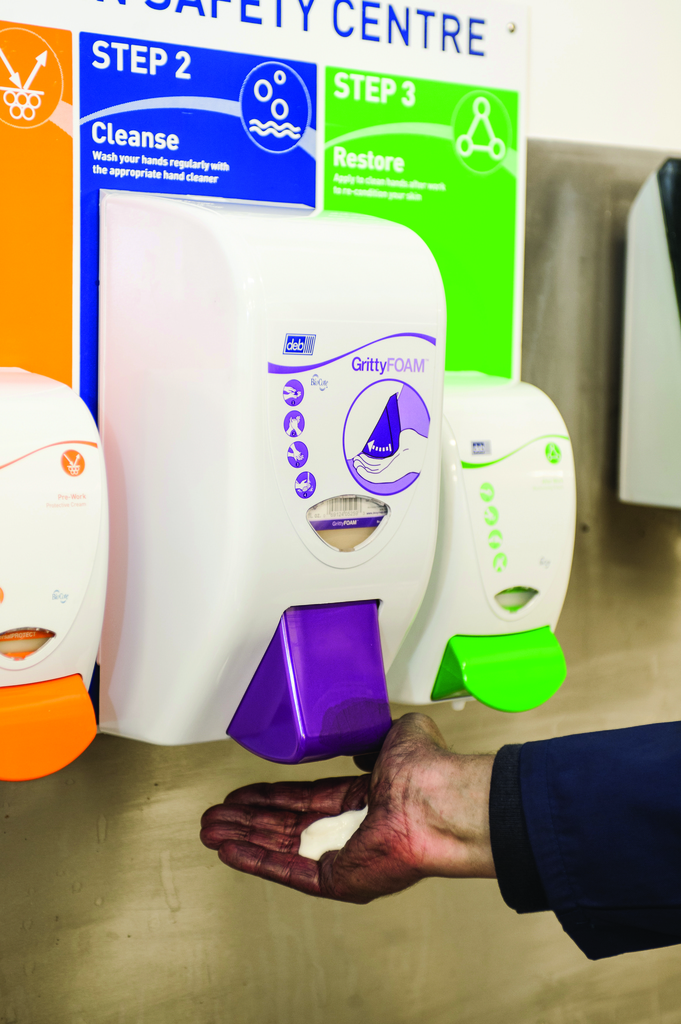 GrittyFOAM is a combination of Deb's market-leading foam science, cutting-edge dispensing technology and contains non-abrasive bio-scrubbers suspended in a rich-cream foam to give a deep-down clean without damaging the skin.
The unique foam format is preferred by 9 out of 10 employees (Industrial Workplace Survey by Deb Group, August 2012) and has been developed to remove all types of industrial contaminants, providing an advanced heavy duty hand cleansing experience.
Phil Spark, marketing director at Deb, explains: "GrittyFOAM is a completely new and different experience compared to conventional heavy duty hand cleansers. Foam spreads rapidly over the hands, emulsifies soilings and rinses away quickly, which means less time, water and associated energy are required for a complete hand wash. Indeed, 3ml of liquid GrittyFOAM produces five times the volume in foam, providing 45% more hand washes per litre."
Not only can Deb's latest innovation help to reduce your environmental impact, GrittyFOAM has been designed to remove from light through to medium/heavy duty soilings, therefore, you eradicate the need for multiple cleansers so could also save money by rationalising your skin care provision.
Cost-effective; preferred by users; gentler on the skin; better for the environment and faster to use than conventional heavy duty hand cleansers, it is clear to see why GrittyFOAM is set to redefine the standard in workplace skin care.
OTHER ARTICLES IN THIS SECTION