ARTICLE
Celebrating 45 years in business
18 April 2019
Ask any CEO or company founder what the secret to a successful business is and they'll tell you hard work, perseverance and the ability to adapt.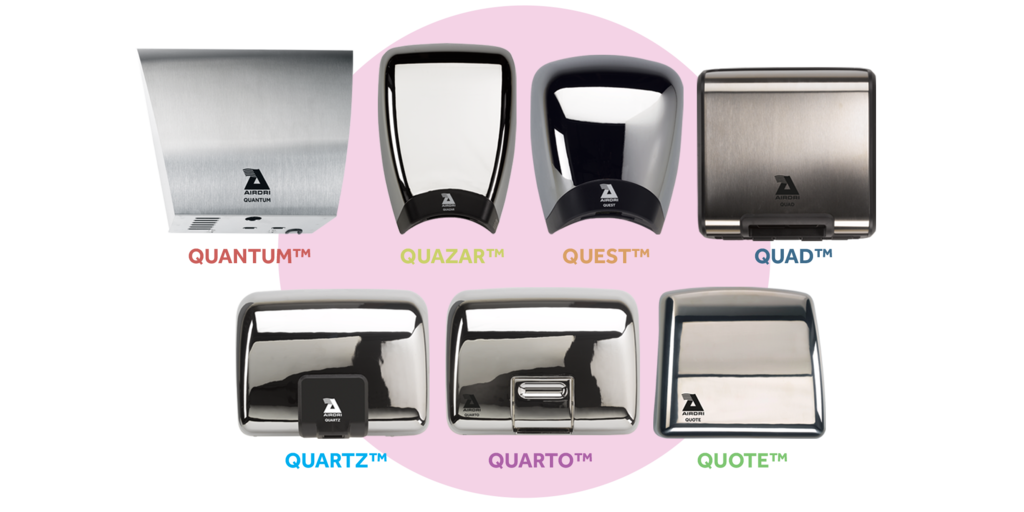 These are three qualities that The Airdri Group, a leading designer and manufacturer of hand dryers and elevator door protection products, has lived by for the past 45 years. Add the company's commitment to sustainability and innovation, and a stream of new senior appointments into the mix, and you've got a recipe for excellence.
As Airdri celebrates its 45th anniversary in business, and marks the first year under the leadership of new CEO – Tony Wall - we take a look at just what it takes to establish an industry-leading business and how to drive innovation after almost five decades.
Early years
Airdri founders, Peter Philipps and Peter Allan met in the early 1970s whilst working as engineers at Smiths Industries, where they specialised in developing hot air system products. They suggested to Smiths that they should start to design and manufacture hand dryers after seeing potential in the growing market, but Smiths rejected their proposal. This didn't stop the duo and they went on to design their first hand dryer in their home garage. In 1974, the pair left Smiths and Airdri Ltd was born.
Airdri's first home was on a small industrial estate in Yarnton near Eynsham and business started small. They would sell a dryer, then go and make another. The first big contract came in 1980, with Redring requiring a supply of hand dryers. This gave Airdri the opportunity to grow and they took on their first employee that year. The team bought an additional warehouse in Yarnton to handle the increasing demand, but the business was developing too quickly for this limited space. The following year, the team moved to a larger space on Eynsham Industrial Estate.
That same year, Airdri secured one of its most successful deals to date; a major contract with US-based Bobrick, a leading supplier of washroom equipment in North America. As demand for Airdri hand dryers continued to increase, so did the need for more space, and in 1988, the firm built a large factory, with office space, in Eynsham. Technology House has continued to grow over the years and remains the home of the thriving business to this day.
Diversifying
To stay ahead of the game in the hand dryer sector, Airdri started to look at new technologies in the early 1980s and introduced automated sensor technology to its hand dryer portfolio. Recognising the technology's potential, which was already extensively used in the elevator industry, Airdri seized the opportunity to expand. In 1983, Airdri launched its subsidiary company, Formula Systems, to provide elevator door-protection systems and speech annunciation units to major elevator companies. 20 years later, Formula Systems opened a US branch in Chicago, and today the firm is internationally recognised as one of the world's leading innovators and manufacturers in the sector.
The next generation
Following the deaths of the two founders in 2013, the ownership of the company went to Peter Philipps' sons, Bruce and Toby Philipps, who took positions as Airdri's president and chairman respectively. Committed to building on the successes achieved by their father and his business partner, the pair focused on modernising the business and breaking into new countries and locations.
Going international
The team and its operations rapidly expanded and in the early 2000's, Airdri North America was formed to enhance the company's relationship with Bobrick, operating from the FS office and warehouse facility in Chicago. The next milestone was the opening of a wholly-owned purpose-built 30,000 sq ft production, warehouse and admin facility in Guangzhou, China in 2016 as the brand expanded its business into Asia.
Celebrating success
There have been some significant accolades in recent years, including Airdri becoming the first hand dryer company in the world to be awarded the Quiet Mark in 2014; a seal of approval from the UK Noise Abatement Society. This accolade enabled Airdri to lead the way and shape industry standards around sound level reduction, with all other major hand dryer manufacturers following suit. Today, Airdri is proud of the reputation it has earned for its continued commitment to sound level reduction.
In 2018, Airdri also introduced a new 200 watt jet dryer – the lowest energy consumption unit in the world. Not only does this product break sustainability records due to its unprecedented low energy consumption, but it also boasts an unrivalled lifecycle. The dryer's motor has been tested against other popular jet dryer brands for longevity and was found to outlast them by in excess of tenfold.
A new chapter
This excellent track-record is what attracted Tony Wall to the business, who was appointed as CEO in March 2018. Joining from Ipro Solutions Ltd, Tony was tasked with overseeing global operations for the group, as well as driving company growth. Tony says: "Airdri has an enviable reputation in the industry so I was delighted to join the team just over a year ago to expand market share and drive innovation. We have made significant investments over recent years to establish a strong operating platform to better service our customer's needs. We have also brought in the right level of talent to ensure that everything we do is of excellent quality. Innovation is at the heart of the business and it will continue to be a major focus for many years to come, as we grow and expand."
Tony has led a number of changes at the organisation over the past twelve months including a renewed focus on quality, research and new product development. This saw the appointment of Richard Kinslay as Group Quality Manager and Steve Whittall as Global Director of R&D. Steve says: "Airdri has an excellent reputation in the industry for creating reliable, cutting-edge products but a company can only maintain such a reputation if it has a true vision for the future and relentlessly strives to innovate through investment in R&D. As we look to expand into new markets and stay ahead of the curve with new product development, we are committed to continual investment in R&D to ensure that we supply our customers with high quality products that meet the demands of an ever-changing market."
Richard adds: "Airdri's commitment to quality is visible throughout every level of the business. Dedication to quality unlocks limitless potential in what we are able to achieve. Our Continuous Improvement programme assists in directing the group through the problem-solving process ensuring that data-driven actions result in lean and repeatable processes"
Airdri has been at the forefront of hand dryer innovation and technology for almost five decades and today, its philosophy remains the same; to design and manufacture highly reliable, energy efficient and beautifully designed hand dryers to suit every washroom. Each unit in the range has unique attributes ensuring that, regardless of where a dryer is to be placed, Airdri will have an appropriate unit to suit the environment it is intended for.
The comprehensive range of hand dryers consider numerous social and environmental factors, such as sound levels, longevity and accessibility, to ensure they are inclusive and suitable for all users. This includes the Airdri Quantum; the lowest energy consumption hand dryer in the world. Placed on lifecycle testing, the unit lasts for over 10,000 hours, outperforming other popular jet dryers by up to ten times. The Airdri Quad is another popular choice. The quiet, slim profile, ADA (Americans with Disabilities Act) complaint hand dryer was specifically chosen by The Children's Hand Hygiene Company for its child-friendly Puff the Magic Dryer.
So what is next for a company that already has achieved so much? With a commitment to ongoing recruitment and training, with over 150 employees worldwide, and heavy investment in continual market-led R&D, there are a number of exciting product developments and innovative new systems in the pipeline. In the coming months, Airdri is poised to grow its global distributor network, with a major focus on Western Europe.
Committed to sustainability through reduction in noise levels and energy consumption, and extending the lifespan of its hand dryers, Airdri will continue to put innovation at the heart of its business to ensure it creates cutting-edge washroom solutions for many more decades to come.
OTHER ARTICLES IN THIS SECTION