ARTICLE
Probiotic cleaning range available to consumers
16 July 2018
Cardiff-based Genesis Biosciences, a global biosciences company specialising in safe and natural microbial products, widely used in the professional cleaning industries, has recently launched its products on Amazon, in a move that will make the cleaning range available to the consumer market.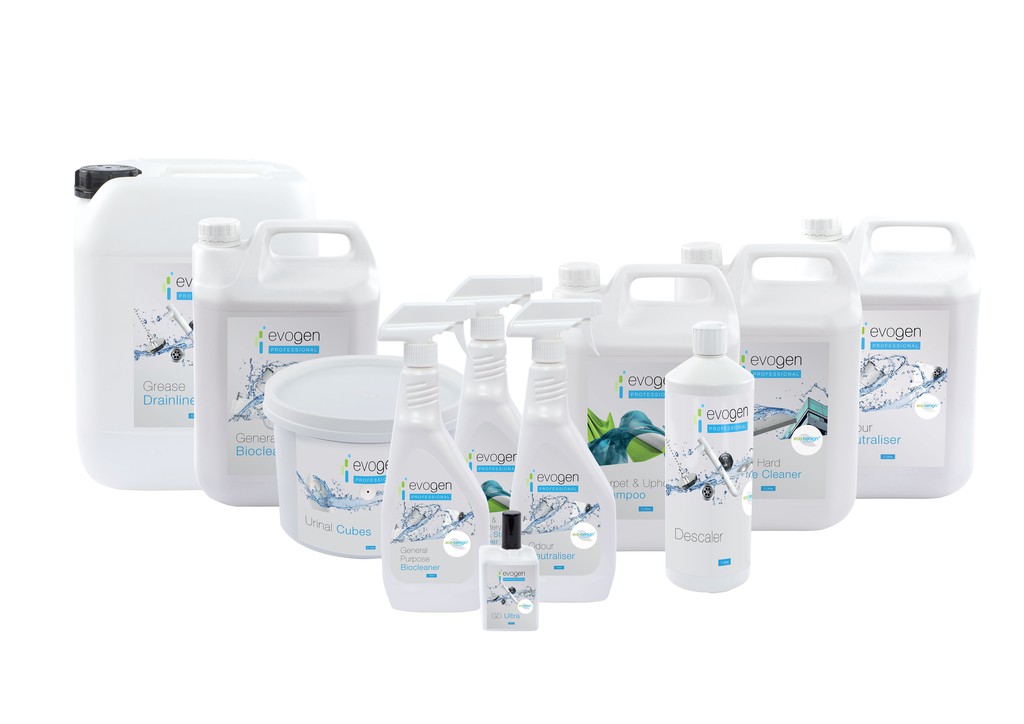 Since its foundation in 1998, the award-winning company has garnered a strong reputation across many industries, selling its products in more than 50 countries world-wide.
The strategic decision to make the Evogen Professional range available to the wider-public is seen as a positive move in their mission of delivering responsible cleaning agents that are free of damaging chemicals, sustainable for both users and the environment.
Genesis Biosciences is a market leader in beneficial bacteria fermentation and is said to be the first company to develop, manufacture and offer both microbial and antimicrobial products for the Facilities Management, I&I, WWT and Marine industries.
Based on discoveries made at its research laboratory in Cardiff (UK), Genesis creates microbial technologies for use in a wide range of waste remediation, bio-augmentation and cleaning applications as well as solutions for the safe and natural eradication of harmful bacteria using plant oils, essential oils and green chemistry.
Genesis Biosciences says that it is the only company with a natural active ingredient for use in vapour-phase disinfection being registered under the European Biocidal Regulations.
Speaking on the new consumer market focus, Emma Saunders, general manager at Genesis Biosciences, said: "This is an exciting moment in the history of Genesis Biosciences. The decision to extend our Evogen range to a wider audience now means that we can increase the positive impact that our research and products are on the world's cleaning challenges, reaching even further into people's homes.
"As a market-leading company, our goal is to help you create a safer home environment for loved ones and arm your home with products that are safer, less toxic and combat the damage done by traditional cleaners."
The Evogen range comprises of microbial cleaning products that have been developed with an emphasis on improved performance, as well as ecological safety. It does not utilise the harsh substances found in chemical cleaning products, and where most biological formulas consist of a single standard bacteria type for every application, the Evogen range has been specifically designed with tailored microbial strains which help to prolong cleaning efficacy.
As the beneficial bacteria continue to break down soiling after application, the frequency of cleaning required is also significantly reduced. This ensures the Evogen products deliver a targeted and highly-efficacious cleaning performance, that does not have any negative impacts on the surrounding environment where it is applied and that is safer for the general public.
OTHER ARTICLES IN THIS SECTION