ARTICLE
Pioneers in recycled plastic packaging
19 October 2017
British eco cleaning-chemical manufacturer Delphis Eco has pioneered what it describes as the world's first 100% post-consumer recycled plastic packaging, which launched across its full range during Recycle Week (25th - 29th September).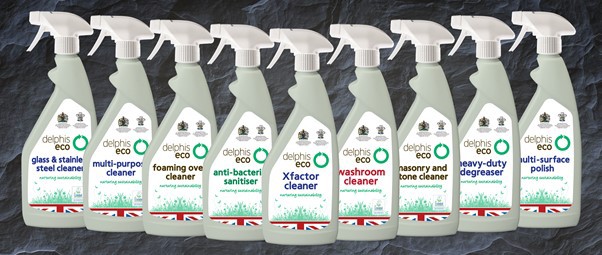 During an era that sees our world awash with plastic waste, Delphis Eco has challenged international manufacturing's status quo and worked with the UK's leading waste collectors to produce recycled plastic granules from HDPE plastic from which to form its new 100% PCR packaging.
Additionally, the company has partnered with specialist producers to blow its bottles to achieve the 100% food grade quality PCR level. According to the company, the result is "a long-awaited closing the loop breakthrough in the use of HDPE recycled waste, signalling the onset of a new era where manufacturers and consumers can expect to see a shift in how waste is recycled and importantly, how it subsequently re-enters the supply chain".
The new Delphis Eco' packaging also looks good, is totally robust and has been declared entirely 'fit for purpose' following rigorous tests to ensure its suitability and durability.
CEO Mark Jankovich said: "By driving this change to our packaging – which incidentally, many people said couldn't be done - we have taken 500 tonnes of carbon emissions out of the equation. Just imagine if the large, international brands followed suit? Waste plastic is a huge issue and we are still only scratching the surface at finding a solution of how to get rid of it."
OTHER ARTICLES IN THIS SECTION