ARTICLE
Delphis partners with Robert Dyas
24 June 2019
Green cleaning chemical company Delphis has announced an exclusive partnership on the high street with UK hardware giant Robert Dyas. Premier shelf space has been secured for 8 SKUs within all 94 UK-based stores that cover Greater London and the South East.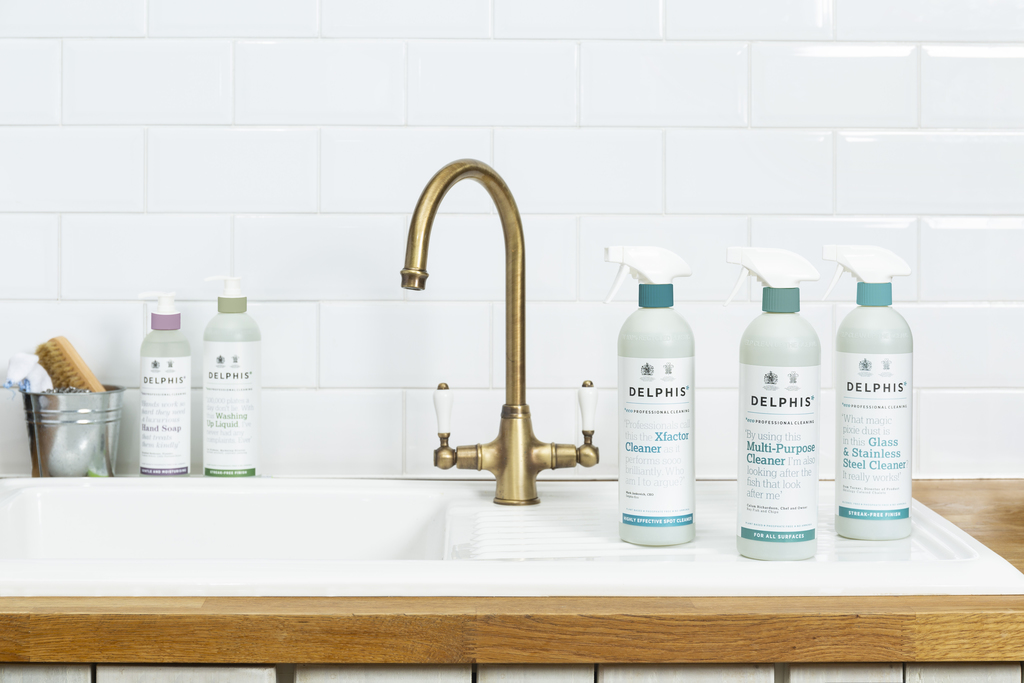 Retail products went live on the shelf from the first week in June, whilst also being available online at https://www.robertdyas.co.uk/
"We're delighted to be launching the Delphis range online and in our 94 stores," Robert Dyas' cleaning buyer Charlotte Potter said.
"As a retail company we're constantly striving to offer as wide a range as possible of high-quality products, so it's extremely exciting to be stocking some of the very best on the market for both cleaning power and green credentials. We're confident our customers will be as enthusiastic about this range as we are."
Potter continued: "We like to make our products as accessible as possible, so for customers who are keen to stock up but don't have a Robert Dyas store near them, they can always order online or use our Click & Collect service for free delivery to their local Ryman store."
The range is highly effective, all non-toxic and produced in Britain from biodegradable sustainable plant-based chemicals with an initial line-up that includes Delphis Hand Soap, Washing Up Liquid, Kitchen Sanitiser & Cleaner, Glass & Stainless Steel Cleaner, Toilet & Limescale Cleaner, Bathroom Cleaner, Multi-Purpose Cleaner, and X-Factor Cleaner.
It is anticipated that a further eight new product SKUs will be added to the range later in 2019 further boosting the category. All Delphis products are packaged in its 100% recycled single-use plastic-free bottles, with fun, eye-catching visualisation and giving 'second life' to 'single life' plastic bottles.
Founder and CEO of Delphis, Mark Jankovich said: "After 10 years of working in some of the toughest professional cleaning environments and constant customer pressure to offer a household range, I'm hugely excited to launch our first ever range exclusively on the high street with Robert Dyas.
"For over 100 years Robert Dyas has led innovation in the home hardware sector and is the perfect partner for us to launch with. The Robert Dyas team has embraced the eco opportunity and is keen to grow us across their business, hence taken the unusual step to launch across all 94 stores as well as online.
"As a business, we originally cut our teeth in the harsh and demanding professional markets proving that Delphis products did exactly what they said on the tin and were highly effective, dispelling any remaining myths that eco-friendly cleaning products may be nice to have, but are less effective!
"We want consumers to know that this is absolutely not the case! Our products have proven to be the number 1 most effective non-toxic and environmentally friendly option against any eco-competitive set that means there is absolutely no need for consumers to use the alternatives which could be harmful, to ensure cleanliness.
"We're proud to now bring cleaning solutions to the domestic market which has been long-awaited and have been under development for the past five years."
Robert Dyas is the respected UK hardware retailer founded in London in 1872 promising value and innovation to meet consumer need.
In turn, Delphis has made its name in the professional markets, securing two Royal Warrants and ensuring the highest environmental pedigree – its labels are printed with vegetable ink, its boxes are 100% recycled cardboard (even the liner is recycled), and 18 months ago, it led the UK with the launch of its 100% recycled plastic bottles. All its products are plant-based, ecological and readily biodegradable whilst remaining 98% more effective than competitors, according to the company.
OTHER ARTICLES IN THIS SECTION