ARTICLE
For life's little spills
18 August 2017
Bio Productions have made life a little easier with an Emergency Clean Up Kit for all taxi, coach & bus drivers, police vehicles, nursing homes, clinics, schools, public buildings and offices. Or anyone with a naughty or poorly pet!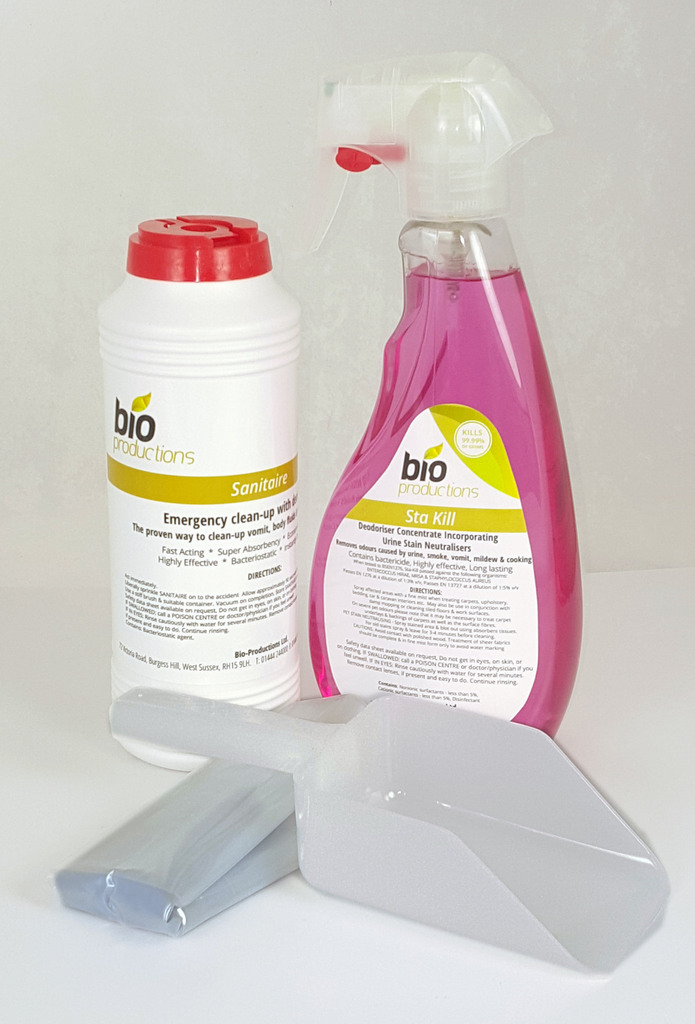 This quick and easy problem solving kit, packed in a handy small bag, is suitable for the fast removal of body spillages. It combines the absorption power of Sanitaire Powder and the odour neutralising efficacy of Sta-Kill Biocidal Cleaner & Deodoriser.
Sanitaire absorbs up to 200 times its own weight in liquid and is specially formulated for use in all emergency situations where body spills occur. Sta Kill is formulated with powerful non-oxidising biocides proven against bacteria, fungi, and algae. It is tested to EN1276 & EN13727.
Simply sprinkle the powder over the spillage, watch it immediately absorb the liquid, and use a dust-pan or scoop away. Follow with Sta-Kill to thoroughly sanitise the area and eradicate the spread of bad odours and bacteria.
OTHER ARTICLES IN THIS SECTION