ARTICLE
Natural alternatives to common cleaners
20 April 2018
As a proud British manufacturer, Bio-Productions says it works hard to help companies maintain a spotless reputation.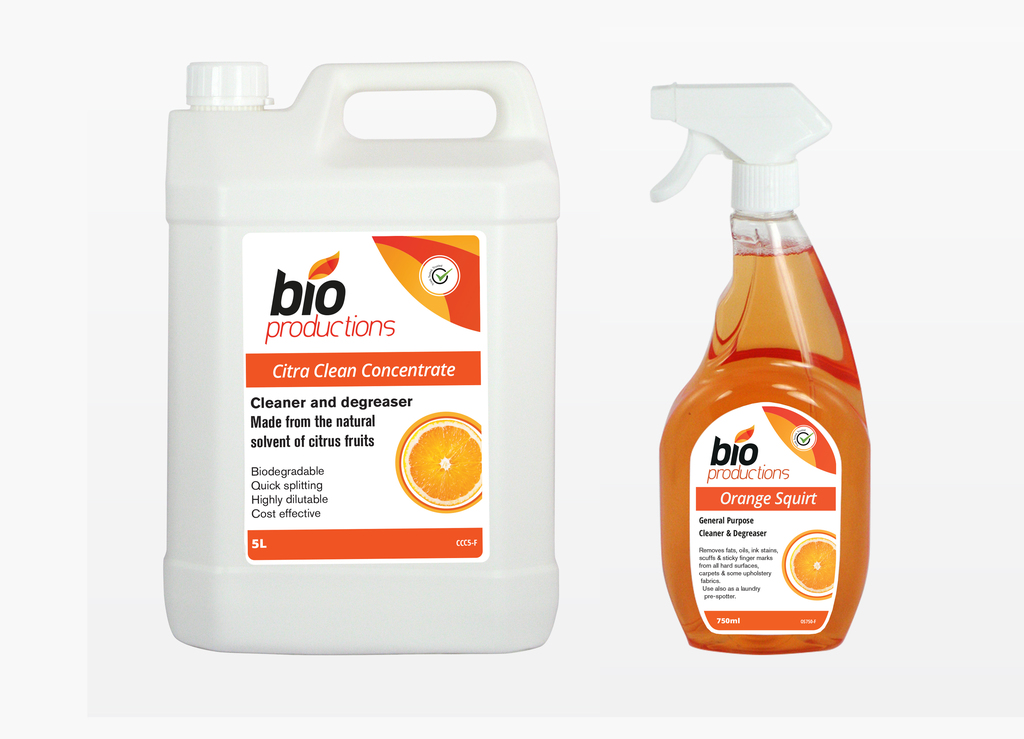 For 25 years, its UK laboratory and manufacturing plant has been developing non-toxic cleaning products that help meet global clients' environmental/social charters and go beyond industry green targets.
The company's innovative and powerful cleaner degreaser Citra Clean concentrate and Orange Squirt ready-to-use cleaner remain leading natural alternatives to common, more aggressive or alkaline cleaners.
Citra Clean is pH Neutral, blended from the natural solvents present in the peel of citrus fruits. Its versatility and power are demonstrated in the wide spectrum of cleaning tasks it can tackle. Used neat, it will remove chewing gum, tar, grease, ink, adhesive, sealant polish, wax and graffiti. In industrial warehouse environments, it will effortlessly remove forklift truck marks from floors and oil spills from garage forecourts, thanks to its quick-splitting technology. Dilutuable at up to 200:1, it's equally effective at cleaning worktops, floors, walls or pre-spotting carpets and upholstery.
For speed and ease of use, Orange Squirt is the ready-to-use 750ml trigger option for convenient spray-and-wipe situations for all hard surfaces, removing ink oils, fats and sticky finger marks, while also being gentle on carpets, upholstery and for laundry pre-spotting.
The ultimate user-friendly pH neutral cleaning product, Citra Clean is low-foaming, easily rinsed and biodegradable for hand, machine and pressure jet applications.
OTHER ARTICLES IN THIS SECTION