ARTICLE
Hako secures long-term deal with Inspirepac
29 April 2016
A market leader in the production of quality corrugated packaging solutions has invested in the latest cleaning technology to keep its new warehouse facilities clear of dirt and debris.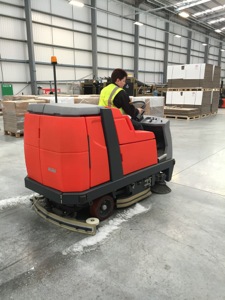 Inspirepac has taken delivery of a Scrubmaster B310 R cylindrical scrubber drier from Hako as part of a long-term rental deal with Hako that's backed by full maintenance support.
The ride-on battery-powered machine is now in operation at the company's new facility in Markham Vale, near Chesterfield, where it's playing a key role in maintaining efficient operations.
Mark Foster, Hako field sales manager – North, explained: "Although the warehouse is new, the nature of the business means that a lot of small pieces of fine debris can collect on the floors, which has the potential to damage other equipment on site.
"To ensure that all this loose material is collected properly, we suggested a cylindrical brush version of the Scrubmaster B310R with a catchment tray. Thanks to its size, manoeuvrability and powerful battery for increased run times, this model is also ideal for large areas such as warehouses, as it can clean an entire facility in one go at a time that suits shifts, deliveries and other working patterns."
Julie Thompson, maintenance supervisor at Inspirepac, commented: "The Scrubmaster really is an easy to use and efficient machine. Our facility uses water based inks and it has no problem cleaning up any spills."
OTHER ARTICLES IN THIS SECTION